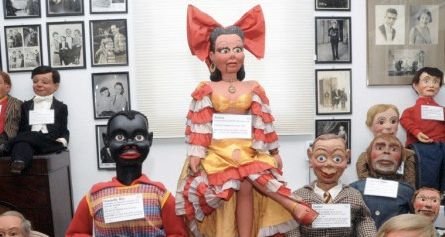 The National Cryptologic Museum was included in a 15 December 2014 Associate Press story titled, "Weird Museums: Travel off the beaten path." The NCM is joined by such company as The Moist Towelette Museum in Seattle, The National Museum of Funeral History in Houston, The Wrench Museum in Idaho, The Titan Missle Museum in Arizona, and wait for it.... The Museum of Sex in New York City (plus a few others). The image here is from the Huffington Post coverage of the article and features the Vent Haven Ventriloquist museum in Kentucky.
But since our friends at the International Spy Museum were placed on a TravelChannel list of 11 Unusual Museums, we'll just hope this extra publicity generates more curiosity for those who have not yet visited our very rare and UNIQUE cryptologic museum.
Here is what the article had to say about the NCM:
The National Cryptologic Museum, about 25 miles (40 kilometers) north of Washington D.C., offers a glimpse into the history of American spying, from code books used during the Revolutionary War to signal flags from the Civil War and decoding machines from World War II.
An 18th century cipher device, acquired from a West Virginia antique dealer who found it near Monticello, is a highlight. The curators believe it is the oldest true cipher device in the world. A display on biometrics gives a window into modern surveillance _ more focused on computers than spies. Two aircraft used for secret missions are parked next door.
The free museum is open weekdays and some Saturdays.