2022 Cyber Family Feud - MD STEM Festival
The Eighth Annual Maryland STEM Festival concluded with a Cyber Family Feud event held at Crofton High School (Crofton, MD) on November 14, 2022.
Crofton and Ft. Meade High School each fielded a student team that competed against each other in the popular Family Feud style game with cyber-themed questions. Team Ft. Meade (Mustangs) received the Cyber Family Feud Trophy.
Following the student competition, IntelliGenesis and Guidehouse, two cyber companies, competed against each other in the Feud. The third round of competition paired one student team with one of the cyber company teams. All four teams had a great time during the competition.
Click on photos below for larger view.
---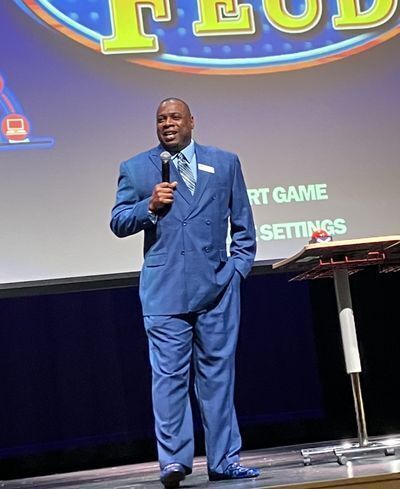 Darnell Washington, the National Cryptologic Foundation's (NCF) Senior Advisor for Training, was the event host.
Philq Rogofsky, Executive Director of the Maryland STEM Festival, told the crowd that the Cyber Family Feud would return during next year's Festival.
Many thanks to all who participated or attended to cheer on the competing teams. We look forward to more competition next year!
---
2022 Cyber Family Feud Participants
Crofton High School:
Temi Sosanya
Nathan Willhite
Slade Hernandez
Noah Teichert
Will Ausiello
Rachel Mohammed
Ft. Meade High School:
Scott Hansen - Mustang Dad
Erin O'Neill - Mustang Mom
Marvin Guerra-Baez - Mustang Oldest Son
Tatianna Lawrence - Mustang Oldest Daughter
Freeman Addo - Mustang Youngest Son
Aidan Tweedale - alternate
Guidehouse:
Bushra Kabir
Carrielyn Green
Garrett Love
Christopher Smith
Caroline Leary
IntelliGenesis:
Guy Howard
Jose Faura
Jason Hwang
Andy Ford
Matt Terrell