NCF 2023 Winter Cryptologic Program: Featuring Patrick Weadon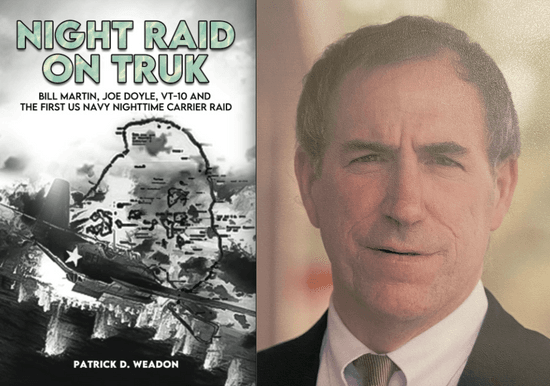 We hope you will join us on 22 February 2023 from 1-3pm EST for our Winter Cryptologic Program, held virtually via Zoom. In addition to updates about the Foundation and the National Cryptologic Museum (NCM), the program will also feature a special presentation by author and former NCM curator Patrick Weadon. Pat will discuss his book Night Raid on Truk: Bill Martin, Joe Doyle, VT-10, and The First US Navy Nighttime Carrier Raid (published Oct 2022) and will take questions from participants. See the full agenda below, as well as more details about our special guest speaker. Autographed copies of Mr. Weadon's book (in paperback) are available for $18, which includes shipping.
The Winter Cryptologic Program is free, but registration is required. We do welcome and appreciate donations (or membership purchases) with registration. As mentioned above, you can also purchase Mr. Weadon's book with your registration.
CLICK HERE for registration options.
Upon registering, please save your confirmation email as it will contain your Zoom meeting information.
Agenda for NCF 2023 Winter Cryptologic Program ( subject to change)
1:00 pm - Welcome and Introductions - NCF President & CEO Laura Nelson
1:10 pm - Museum program and exhibit update - NCM Director Dr. Vince Houghton
1:25 pm - Short Break
1:30 pm - Guest Speaker Presentation: Author and former NCM curator Patrick Weadon will discuss his book, "Night Raid on Truk: Bill Martin, Joe Doyle, VT-10, and The First US Navy Nighttime Carrier Raid."
2:45 pm - Q&A with Patrick Weadon and program wrap-up with Laura Nelson
About Our Guest Speaker
Patrick Weadon served as curator for the National Security Agency's (NSA) National Cryptologic Museum from January 2005 to September 2020. Prior to his appointment as chief of the Museum, Mr. Weadon spent 20 years at the NSA where he served in such diverse positions as Special Agent, Intelligence Research Analyst, and Public Affairs Officer. He also served on active duty with the U.S. Navy in the days and months following September 11th, 2001. Before coming to the Agency, he interned during the Carter Administration at the President's Council on Environmental Quality and worked on Capital Hill for Legislate Inc., a division of the Washington Post Company.
Mr. Weadon holds a B.A. in Politics from the Catholic University of America, an M.A. in Legal and Ethical studies from the University of Baltimore, and an MA in history from American University. Mr. Weadon also served as an adjunct professor in the Department of History for Anne Arundel Community College from 2009 until 2013, and in 2003, he was inducted into the nationally recognized history honor society, Phi Alpha Theta.
During his tenure as curator, Mr. Weadon was prominently featured in the New York Times, Baltimore Sun, and a wide range of other diverse print and broadcast media outlets to include National Public Radio, the History and Discovery Channels and the Tokyo Broadcast System. In addition, he is the two-time winner of the George Jelen Literature Achievement Award for excellence in matters dealing with OPSEC (Operations Security), and has written for The New York Times, The Washington Post, The Baltimore Sun, and The Annapolis Capitol.
Mr. Weadon is a native of Washington D.C and currently resides with his wife Catherine and four children in Severna Park, Maryland. He is an avid sports fan having played both ice hockey and lacrosse during his college years and served for many years as as coach for both sports on the youth level for the Severna Park Green Hornets and Navy Youth Hockey program.