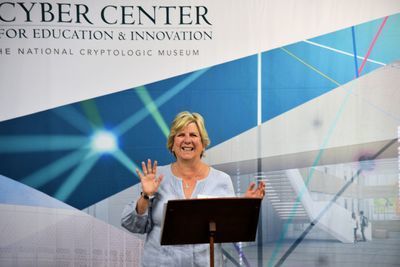 The NCF provides quality cryptologic programs highlighting relevant topics and featuring expert speakers. The Foundation also partners with others in our community to promote additional outstanding programs.
---
The Foundation hosts quarterly cryptologic programs ~ each focused on a timely theme and featuring an informative guest speaker. Visit the Quarterly Programs page to learn about upcoming and previous programs.

The Foundation's annual meeting & symposium takes place in October and features a keynote address, as well as guest speakers and panel discussions. The program also includes an update on Foundation news, Museum events and activities, and progress regarding the new museum project.

In October 2022, the NCF and INSF co-hosted Cocktails & Codebreakers - a celebration of women cryptologists of WWII. The program included a fireside chat with Ms. Kemba Walden and Mr. Greg Myre, as well as a presentation by Mr. Bill Nye. Click on the program title to view a recording, see photos, and more.

The NSA's Center for Cryptologic History hosts a biennial Cryptologic History Symposium in Maryland. The Foundation helps to promote and support this popular two-day event which attracts speakers and attendees from around the globe. Attendees can choose from a wide variety of workshops, presentations, and demonstrations. The event coincides with the Foundation's annual meeting to make three full days of all-things-cryptology!

This special Series is an annual program featuring historical lectures named in honor of a former NSA historian. Sponsored by the NSA's Center for Cryptologic History, the lectures are presented by preeminent scholars who address cryptologic issues with a historical perspective.