United States Intelligence Professionals Day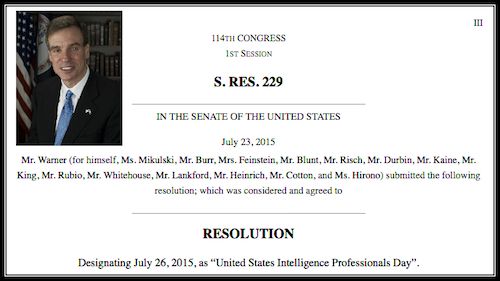 Senate Honors Intelligence Professionals for Service to Nation.
The US Senate is honoring the courage and sacrifice of the men and women of the US intelligence community by designating July 26, 2015 as "United States Intelligence Professionals Day." US Sen. Warner (D- VA), a member of the Senate Select Committee on Intelligence, introduced a joint resolution that was unanimously approved by the Senate, acknowledging intelligence officers, past and present, for their service and professionalism in protecting the United States from those who wish to do us harm.
"Our nation's intelligence professionals are quiet heroes who work every day to keep America safe, but we seldom hear about their successes or their sacrifices," said Sen. Warner. "These men and women work in silence to protect the nation and they deploy to war zones and dangerous regions of the world. They cannot discuss their work even with their families. But as a member of the Intelligence Committee, I see how they keep our country safe every day, and I thank them for their service to our nation."
This bill comes 68 years after President Harry Truman signed the National Security Act of 1947, which laid the foundation for today's intelligence community and continues to govern its activities.