"On This Date in History" Calendar
1930: David Kahn, noted cryptologic historian was born.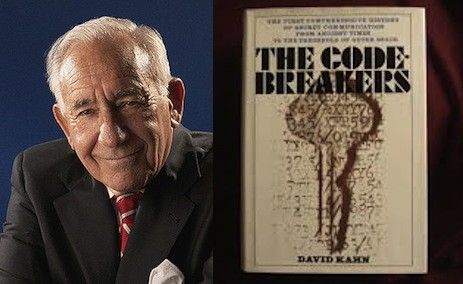 7 February 1930: David Kahn, noted cryptologic historian and author was born. Dr. David Kahn is an esteemed author whose book, "The Codebreakers," is widely acknowledged as the most comprehensive book ever written on the history, art and science of codebreaking. Dr. Kahn has had one of the world's rarest collections of books, papers and artifacts related to the art and science of cryptology. We are extremely grateful that much of that collection is now the prized possession of the NCM and Library. Learn more about his donations to the Museum and Foundation below and click the link below to see examples of his donations in our Special Acquisitions section. You can also see examples via the link to a press release on the NSA website about Dr. Kahn's donations.
Dr. Kahn's unique collection in the NCM and Museum Library includes more than 2,800 books and over 130,000 pages of notes from interviews with hundreds of cryptologic and intelligence personnel, foreign and American, many now deceased, obtained in the course of research for his many books, such as "The Codebreakers." The collection houses photocopies of rare or unique intelligence documents from foreign and domestic archives and from private collections. Thanks to Dr. Kahn, the museum possesses 55 extremely rare books, such as a copy of the first printed book on cryptology, Johannes Trithemius's "Polygraphiae" of 1518. The one-of-a-kind items in the Dr. David Kahn Collection include a telescript of his appearance on the Tonight Show (now on display as part of the NCM's and a typescript of Herbert Yardley's once controversial American Black Chamber.