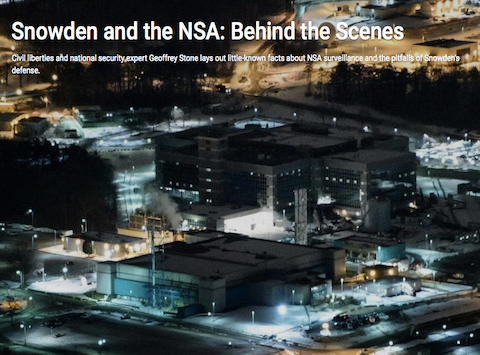 Snowden and the NSA: Behind the Scenes from USNews & World Report
Civil liberties and national security expert Geoffrey Stone lays out little-known facts about NSA surveillance and the pitfalls of Snowden's defense.
by James Warren, Contributing Editor - USNews & World Report
18 May 2016
It had a visual touch of George Orwell's "1984." There on a large auditorium screen, Edward Snowden appeared from Moscow, as an enrapt audience of 500 sat in a University of Chicago auditorium.
But of course this wasn't Big Brother, the party leader and personification of constant surveillance. It was a cult figure of the opposite thrust, namely a self-styled whistleblower and free speech advocate. In a John le Carre construction, he might be called The Leaker Who Wouldn't Come in From the Cold.
The ultimately revealing encounter was the handiwork of the new and engaging Institute of Politics, founded by former longtime political strategist David Axelrod. It resulted from a fellowship stay at the institute by broadcast journalist Jessica Yellen, who in turn lured Snowden's Los Angeles-based ACLU attorney Ben Wizner to speak.
Axelrod raised the possibility of a Snowden appearance with the lawyer and then discussed it directly with Snowden via Skype. Last week, the former CIA contact sat in Moscow, where he's avoiding a U.S. trial on espionage charges, and was interrogated mostly by Geoffrey Stone, a longtime stalwart at the University of Chicago Law School.
It was both obvious and inspired. Stone is a prominent civil liberties expert and advocate who is a member of the National Advisory Council of the American Civil Liberties Union. But he's also now very much an expert in national security – certainly far more knowing than most Americans, including journalists who cover the area – precisely because of Snowden.
After Snowden's revelations and subsequent deep concern over government surveillance, President Obama appointed Stone a member of a special review group on Intelligence and Communications Technologies. The group was given essentially unfettered high-security access to our national security apparatus and ultimately made 46 recommendations on oversight of the National Security Agency, including how it collected telephone data on Americans and spies on international leaders.
The Institute of Politics' hour-long session with Snowden, which ended with student questions and applause, was not given to a debate between Stone and Snowden on any of many issues the former intelligence contractor touched upon. It left unclear what Stone really thought of Snowden, notably Snowden's justification for leaking documents and belief he served a higher purpose of popular understanding.
So I asked.
Before I ask about your response to Snowden during the session, describe any evolution of your thinking about the relevant issues during your tenure on the presidential panel.
Stone: So before I began the work on the review group, my general view was that, from what I learned in the media, the NSA had run amok and created these programs without appropriate approval or authorization or review. And whatever I thought of the merits of the programs, my assumption was that it was illegitimate because it didn't have appropriate review and approval. What surprised me the most was that this was completely wrong.
Every one of the programs the NSA was running in foreign intelligence surveillance was approved by the House and Senate intelligence committees, White House, the attorney general and the FISA (Foreign Intelligence Surveillance Act) Court. Every program was authorized and approved, and whatever one thinks of the programs, it was not a case of running amok or exceeding its authority. If there were extensive criticisms of the programs, the fault rests with the government entities that approved and authorized them. That I found surprising and illuminating.
The more I worked with the NSA, the more respect I had for them as far as staying within the bounds of what they were authorized to do. And they were careful and had a high degree of integrity. My superficial assumption of the NSA being a bad guy was completely wrong.
The second big change came as I understood these programs much better. I came to the view that they were well intentioned, that they were designed in fact to collect information for the purpose of ferreting out potential terrorist plots both in the U.S. and around the world and that was their design and purpose. And with a few errors of applications, it was the way in which they were utilized. By the NSA, there was no intentional abuse of the authorities they were given. And the purposes of the programs were good ones.
Click to CONTINUE READING this article via the USNews & World Report Website
Return to our HOME PAGE
Read more articles - visit our Cryptologic Bytes Archives via the "Return to List" link below.