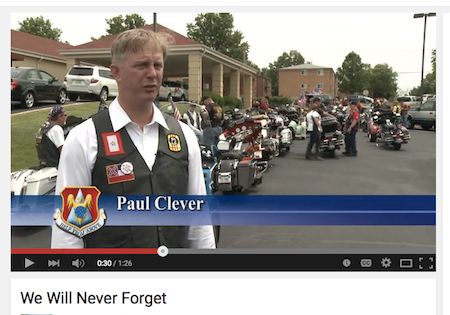 After three long and emotional years of hard work as part of MRSEA: Maximum Recovery in Southeast Asia, Paul and Nita Clever helped bring home a crew whose plane went down decades ago. In their search and recovery mission to Thailand, they brought home remains of Vietnam veterans leading to the identification of 7 of the 10 crew members. One of the veterans who was brought home is Paul Clever's father, TSgt Louis Clever.
UPDATE: An honor ride and funeral was held for TSgt Clever on 22 May 2015 at the Jefferson Barrack National Cemetery south of St. Louis MO. Watch a short video from Scott Air Force Base called "We Will Never Forget," featuring this final special tribute.
On 1 May 2015, Nita and Paul Clever received the Air Force Commander's Public Service Award Medal at Goodfellow Air Force Base for their successful efforts in bringing American Remains left behind in Laos since 1969 (Vietnam War).
Later this year the Clevers will be returning to Laos with Applied Anthropologist/Archeologist Brian Kenny on their fourth mission. This mission will be to search for the burial site of A1C Alan Piittmann. The Clevers believe they are within 20 meters of the burial site and will be taking better equipment to facilitate the search.
AN UNUSUAL REQUEST: MRSEA is hoping for donations of used Barbie dolls (clothing and accessories optional). Not only does Ambassador Barbie bring smiles to young Laotian girls but she is able to open doors within local villages which otherwise may remain closed. Please consider sharing your used Barbie(s). Address: 10860 Ridgefield Drive, Olive Branch, MS 38654.
Read a news release that covers the full history of this incredible effort via this PDF. You can also learn about MRSEA: Maximum Recovery in Southeast Asia below.
To learn more and get updates on additional efforts, follow the MRSEA: Maximum Recovery in Southeast Asia Facebook page.
MRSEA was founded in 2011 with the objective of locating the crash site of an EC-47Q in Southern Laos and leveraging a higher quality accounting of the crew than was given in 1969. This mission was successfully achieved in 2013 with the repatriation of remains recovered at the crash site in 2012 and the official reopening of a JPAC investigation into the crew's loss (REFNO 3003).
After ten years of battle during the Secret War in Laos families of Americans lost in Laos were shocked to see the return of only 13 American during "Operation Homecoming". After the War a Pathet Lao official announced "tens of ten" Americans were being held in Laos and would only be returned through Laos. Translated from Lao to French to English this is believe to mean "dozens." The American Government ignored the statement because President Nixon has announced "All living Americans had been returned home".
MRSEA is now in search of the "Tens of Ten."
MRSEA's mission: Finding, marking, and excavating the wreckage of EC-47Q 45-1133 "CAP 72" which was shot down by hostile fire on February 5, 1969 in Southern Laos to insure a determined effort has been given towards achieving a "maximum recovery" of all crewmember remains. The goal has consistently been to actively search for clues regarding the disposition of American Combatants possibly left behind in Laos against their will after 1973.
When visiting the National Cryptologic Museum, remember to explore the airborne reconnaissance display, featuring, among other items, information about EC-47 crew losses in Vietnam. There is also an ARDF exhibit at Goodfellow AFB that was dedicated in 2014. When you are there, make sure to purchase one of the commemorative EC-47 coins sold by the AF Freedom Through Vigilance Heritage Association.
Return to our Home Page.
Visit the Cryptologic Bytes Archives via the "Return to List" link below.