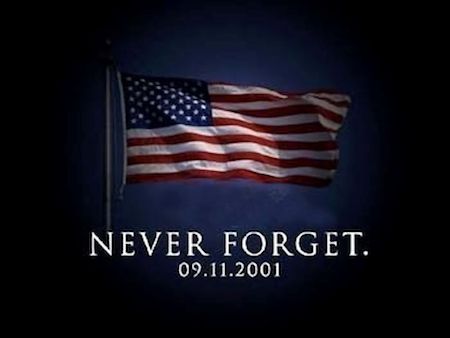 We pause on this day to remember the events of this tragic day in 2001. We honor the victims and survivors, pray for their loved ones, and are deeply grateful for the heroism of first responders. Learn more about the al-Qaeda Attacks in U.S. on 9/11/2001 via the link below.
September 11th is now known as "Patriot Day" in the United States, and is observed as a National Day of Service and Remembrance of the victims of the 9/11 attacks. Across the U.S., numerous memorials and other events are held on this day to honor the loss of thousands of lives.
September 11th Memorial Exhibit at the NCM: In silent tribute to the more than 3,000 innocent people killed during the three separate terrorists attacks on 11 September 2001, a scorched 12" x 17" concrete remnant of the outer wall of the Pentagon is exhibited in the Memorial Hall area of the museum. Surrounding the remnant are four statements by President George W. Bush on America's resolve to win the War on Terrorism. See link below.