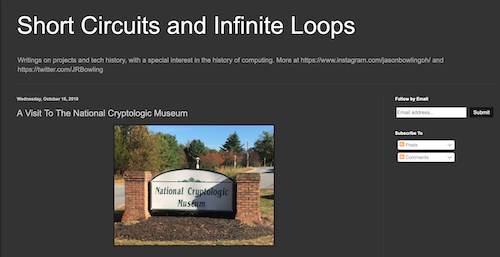 We always appreciate when visitors to the National Cryptologic Museum (NCM) take the time to share about their visit with others online. Educators, Tech Lovers, Cryptology Buffs - lots of you capture the best photos and have great insights about the exhibits and displays. It benefits those who have never visited to read about your experience.
Jason Bowling, a self-described "Network guy, Tech History Nerd, and Photographer" visited the NCM in October 2019 and shared his impressions of the museum, as well as some great photos on his blog "Short Circuits and Infinite Loops." We hope you will check it out.
Jason is on Twitter at @JRBowling and on Instagram @jasonbowlingoh
Thank you Jason, and everyone who shares about your visit to the National Cryptologic Museum. Come back again soon!