NCMF Quarterly Cryptologic Programs

The Foundation sponsors quarterly programs featuring speakers well versed on subjects of professional interest to its members, usually in the areas of cryptology and intelligence. Guest speakers are well-known experts in the field and have often authored books which are made available during the program.
The Spring and Summer programs typically take place in March and June and, as noted above, feature a particular topic and guest speaker.
The third quarterly program, held in October, is also the General Membership Meeting & Annual Symposium. Every other year, the October program coincides with the NSA's 2-day Symposium on Cryptologic History, thus creating a THREE DAYS OF CRYPTOLOGY. For a recap and photos from past NCMF October programs, please see the "Previous Programs" section of the General Membership Meeting & Annual Symposium page.
The final quarterly program (typically in December) traditionally features presentations related to intelligence or cryptologic events surrounding Pearl Harbor.
See the "Previous Programs" area below for details about previous year's topics and speakers.
---
Upcoming Program: 27 March 2019

The NCMF's 2019 Spring Cryptologic Program will feature special guest speaker Mr. C. Eric "Rick" Estberg, author of the book Berlin Daze. Following his presentation, a book signing and lunch will take place from 1145 to 1300. Books will be available for purchase for $20. Learn more about Mr. Estberg, his presentation, and his book below.
ABOUT THE PRESENTATION
Rick's presentation will be based on his recently published book, Berlin Daze, which recounts dozens of his adventures and unique experiences over a seven-year period in walled West Berlin, both as an Army NCO, as well as an NSA civilian. As a "Cold Warrior" he served literally on the front lines, separated by only a few miles from hundreds of thousands of Soviet and East German soldiers. Unlike others who spent much of a career in those days simply training for some possible future crisis, Rick actually lived his real-world mission, day-in and day-out, along with hundreds of others of talented, dedicated military and civilian intelligence specialists.
Through exciting, intriguing, humorous, entertaining, and even sometimes bawdy recollections, Rick's memory bank never seems to run dry. Whether it was accidentally getting locked inside the closed Tempelhof Airport, being asked by an East German to help him escape across the Wall, sitting all of 30 feet from a notorious spy, meeting former Nazi SS officers at their old (and his current) barracks, saluting Russian army privates while clearing checkpoints at the edge of Berlin, or editing an underground newspaper, there seems to have not been a single week in those years in Berlin when something noteworthy wasn't taking place. Rick will share some of these fascinating stories and insights during his presentation. He will be available for book signing after the presentation. Books will be available for purchase ($20) at the event.
REGISTRATION INFO
The registration fee includes lunch and is $25 for members and guests. For your convenience, we offer easy online registration. Click the red REGISTER NOW button to complete online registration. Or you may mail-in your registration fee. Please mail checks to NCMF - P.O. Box 1682 Fort George G. Meade, Maryland 20755-9998 and provide names of all registrants. For more details, please call the NCMF office at 301-688-5436. ***Deadline for registration is 25 March 2019.*****
HELP THE NCMF TO PROMOTE OUR PROGRAMS
***** Are you a member of a book club, affinity group or other social/ retirement communities? We hope you will let your friends and neighbors know about our programs which feature experts on a variety of interesting topics. Help us to spread the word by posting flyers you receive by mail or that you download from our site (see below for downloadable pdf flyer) on bulletin boards or other prominent places. We look forward to seeing you and your friends at our events.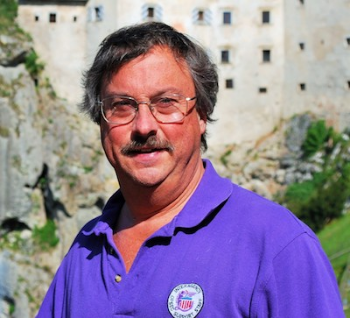 ABOUT THE SPEAKER

C. Eric "Rick" Estberg joined the Army just after graduating from Ripon College in Wisconsin. He served as a linguist at the Army Field Station Berlin in the late 1970s prior to getting hired at NSA in 1980. Within three years he had returned to Field Station Berlin, for an extended assignment. Over the course of a nearly 40-year career at NSA, Rick has held numerous positions, including linguist/reporter, senior policy staff officer, Director's speech writer, Brookings Fellow, chief of staff at the Interagency OPSEC Support Staff (where, in 4+ years, he delivered over 400 presentations to audiences totaling over 32,000), intelligence adviser at NATO Hq in Brussels, and, presently, the country desk officer for a major foreign partner.
Rick holds a BA from Ripon in German and education, another BA from University of Maryland in history, and an MA in international relations from Boston University. His awards include the Agency's Meritorious Civilian Service Award. He is married to a recent NSA retiree, Lucie Estberg, and has two adult sons. His hobbies include writing, public speaking, and community theater (he has appeared in a dozen productions in the Annapolis area in the past six years).
---

---
ABOUT THE BOOK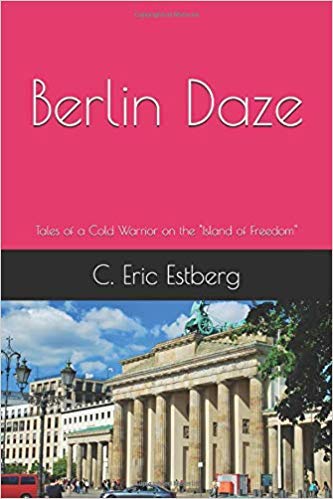 Mr. Estberg's book, Berlin Daze, is a detailed, accurate and personal account of an intelligence professional's life as an Army - and later civilian - linguist assigned to Army Field Station Berlin. Located atop a rubble mountain known as Teufelsberg, FS Berlin monitored the activities of tens of thousands of Soviet and East German troops stationed only miles away. Mr. Estberg shares unique insider information on his job as an "electronic spy" 100 miles behind the Iron Curtain and recounts dozens of stories about life in the high-stress environment of West Berlin during the Cold War.
---

---
Previous Quarterly Programs
Short summaries of some of our previous quarterly programs are provided below. CLICK on the title of each to view a recap page, if available. (Note - Visit the NCMF General Membership Meeting & Annual Symposium page for summaries of previous annual meetings.)
Our 2018 Summer Program featured special guest speaker Dr. Janet Breslin-Smith with an enlightening presentation on American diplomatic and military strategy, and its clash with Saudi culture. The presentation was titled "Sex and Strategy: Why We are Adrift in the Middle East" and it prompted our longest Q&A Session on record! Learn more about her and the program by clicking on the title or image.

The NCMF's 2018 Spring Cryptologic Program featured special guest speaker Ms. Liza Mundy, best-selling author of "Code Girls: The Untold Story of the American Women Code Breakers of World War II." "Code Girls" brings to light key roles played by thousands of female codebreakers during WWII. Click on the image or title to watch a replay of the presentation, see photos from the event, and get more details.

Our 2017 Pearl Harbor Program featured guest speaker Dr. Robert W. Love, Jr. This year's focus was on the rationale for the attack, which even its architect, Admiral Yamamoto, characterized in so many words as a "death warrant." Dr. Robert Love, a professor and historian at the U.S. Naval Academy, helped us to understand the motives and goals of the planners and whether it was "a bold stroke or senseless strategy." Click on the title or image to learn more.

The NCMF 2017 Summer Cryptologic Program featured guest speaker Dr. David Priess, former CIA intelligence officer and author of "The President's Book of Secrets." For this breakout book, he became the first author to interview every living former President and Vice President, as well as dozens of other leading national security and intelligence leaders of the past 50 years—CIA Directors, National Security Advisors, White House Chiefs of Staff, Secretaries of State, Secretaries of Defense, and Intelligence Community executives. to learn more, please click on the photo or title for the event page with summary info and photos.

The NCMF's 2017 Spring program, "A New Perspective on NSA's Covert Activities," took place on 29 March in Annapolis Junction, MD. The program featured a presentation by author Mr. Stephen Budiansky from 1000-1130, followed by book-signing of Mr. Budiansky's recent history thriller entitled "Code Warriors: NSA's Code Breakers and the Secret Intelligence War Against the Soviet Union."

During this timely program, Mr. Budiansky spoke about his latest book (noted above) that draws on an array of recently declassified documents to explore the NSA's long SIGINT struggle against the Soviets, and traces the historical forces behind the intelligence controversies making headlines today.

Click the image or title to learn more and please stay tuned for event photos.

On 5 December 2016, the NCMF hosted the 2016 Pearl Harbor Program in Annapolis Junction, MD with special guest speaker Dr. Linton Wells, II. Dr. Wells is former Director of the Center for Technology and National Security Policy (CTNSP) at National Defense University (NDU), and the founder of the TIDES Project. During his presentation, he spoke about how the Imperial Japanese Navy was prepared for battle, but not for war. Click on the program title or Dr. Wells' photo to learn more.

The NCMF's 2016 Summer Cryptologic Program, featuring a presentation by former DIRNSA and Director, CIA, General Michael Hayden, took place on 25 July in Annapolis Junction, MD. During the presentation, General Hayden discussed the reasoning behind his responses to terrorism and other challenges the United States faced as the technological revolution proceeded. He defended these decisions strongly and provided counter arguments to accusations of wrongdoing which regularly appeared in the media in the wake of the Snowden revelations. One of the key players in the modern world of intelligence, he provided an unvarnished view of what is required to defend the US from the many threats it faces and why is is necessary to take unpopular measures to protect this nation and its allies. Gen Hayden's book, "Playing the to Edge: American Intelligence in the Age of Terror," was published in early 2016. PLEASE CLICK ON THE IMAGE OR TITLE TO VIEW RECAP AND PHOTOS FROM THE EVENT.

The NCMF's 2016 Spring Cryptologic Program, featuring a presentation by Dr. David J. Sherman, NSA Associate Director for Policy and Records, was held on 9 March 2016. Dr. Sherman, who oversees the agency's information security policy and its responsibilities under the Freedom of Information Act, discussed the NSA redaction program and the challenges faced in declassifying and protecting sensitive information in the volumes of documents to be released to the general public. Click on the Event Name or Speaker Photo to learn more.

Our (early) Summer Cryptologic Program on 20 May 2015 featured special guest speaker Dr. Andrew Hodges, author of Alan Turing: The Enigma. Dr. Hodges' book inspired the highly-acclaimed film, The Imitation Game and we were thrilled to have him with us for the program and to visit the National Cryptologic Museum. Click to learn more and see photos from the event.

2015 Spring Cryptologic Program

On Wednesday, 4 March 2015, Col. Philip Thompson USAF (Ret) spoke at the NCMF Spring Cryptologic Program about his experiences as the defense and air attaché in Warsaw during the early 1980s. It was an excellent presentation of the duties of an attaché and the dangers of roaming the countryside filming hidden installations and equipment. He observed that concentrating on items to be photographed diverts attention from surrounding sites, objects and people, which may be of equal or greater interest. He also spoke about the grinding poverty of a once prosperous country and the fear of strangers and friends that all Poles exhibited. He discussed the role of the Catholic Church and the bravery of priests, some of whom were murdered by the regime. Despite such dire conditions, Poles, while trying to avoid detection, expressed gratitude to foreigners who they believed were working to relieve their suffering. The uprisings at the Gdansk Shipyard and the rise of Lech Walesa were only the beginning. The prosperity they now enjoy is a direct result of these events.

2014 Pearl Harbor Lecture Series (14th Annual)
Scholar Dr. John Gordon IV, author of Fighting for MacArthur: The Navy and Marfine Corps' Desperate Defense of the Philippines, senior policy analyst at the RAND Corporation, and professor at the Pardee RAND Graduate School was our featured speaker. His presentation included first-hand information gleaned from Japanese sources. He also highlighted the SIGINT contributions provided by collection from Station C, our intercept site on Corregidor, as well as MacArthur's failure to use intelligence available to him. Click above to visit the Event Page.

2014 Summer Cryptologic Program
Dr. Michael Warner, U.S. Cybercom Historian, joined us for "The History of International Intelligence" and spoke about his experiences, as well as his book, "The Rise and Fall of Intelligence: An International Security History." See the Program HERE.

2014 Spring Program
Mr. Jim Ohlson, former FBI Supervisory Special Agent, gave an exciting presentation regarding the Bob Hanssen spy case.

2013 December Program
Dr. Donald Goldstein, co-author of "At Dawn We Slept: The Untold Story of Pearl Harbor" gave a presentation highlighting insights into the Japanese outlook on the Pearl Harbor attack and the subsequent disastrous aftermath.

2013 Summer Program
Mr. Melvin Goodman, former senior CIA analyst, author and senior fellow at the Center for International Policy, discussed his latest book, "National Insecurity: The Cost of American Militarism." Mr. Goodman gained an exceptional knowledge of national security while serving under every Administration from Johnson to Bush, Sr. Mr. Goodman decries that the Government's persistent misdirection of power stems from its dependency on the military-industrial complex.

2013 Spring Program
Ms. Sandra Grimes, long-time CIA insider, spoke about the decade-long investigation that led to the exposure of her co-worker, Aldrich Ames, as a Soviet mole who was responsible for the torture and execution of at least ten Soviet undercover agents. Ms. Grimes and Ms. Jeanne Vertefeuille co-authored the book, "Circle of Treason: A CIA Account of Traitor Aldrich Ames and the Men He Betrayed."

2012 Spring Program
Author Douglas Waller spoke about his book, "Wild Bill Donovan: The Spymaster who created the OSS and Modern American Espionage." Mr. Waller's fascinating presentation focused on Donovan, the man who became the nation's top spy under the presidency of Franklin Roosevelt during World War II. Waller is a veteran correspondent, author, and lecturer. As a journalist he has covered the Pentagon, Congress, the State Department, the White House, and the CIA.

2012 Summer Program
The NCMF welcomed the Ohio State University Drama Department's Theatrical Exhibition Team which performed "The Camouflage Project," a performance based on the mission of four female British agents who operated behind German lines in France during World War II. Through exhibition stations and a performance of mime and dance the audience learned how the agents used camouflage and code systems training to conceal themselves and communicate with allied forces. Photo here is from The Camouflage Project.