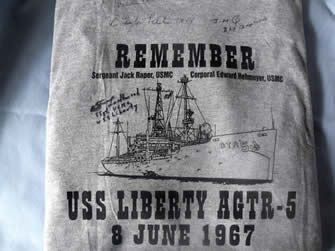 A survivor of the USS Liberty, SSgt Bryce Lockwood (USMC), donated an unusual artifact to the NCM: a USS Liberty Memorial t-shirt that commemorates two Marines killed during the Liberty attack: Sergeant Jack Raper and Corporal Edward Rehmeyer. (Read about Lockwood's courageous acts during the USS Liberty attack in the section below regarding his Silver Start.)
The shirt is autographed by Lockwood and by two Marine Corps veterans from the 2nd Radio Platoon who served in Peleliu during WW II, Al Taylor and Bob Feist. The shirt is also signed with a "Q" by James Quisenberry.
The battle for Peleliu lasted over two months (Sep-Nov 1944) and had the highest casualty rate for U.S. personnel of any battle in the Pacific War. The 2nd Radio Platoon was reactivated in 1958 as the First Marine Composite Radio Company. They were also the first Marines on the ground in Vietnam in 1962. The historical lineage of this t-shirt (pictured here) from WW II to Vietnam and the Cold War makes it an unusual artifact indeed.
Originally posted 12/5/12.
Lockwood (donor of artifact) - Recipient of Silver Star
The President of the United States of America takes pleasure in presenting the Silver Star to Staff Sergeant Bryce F. Lockwood (MCSN: 1859856), United States Marine Corps, for conspicuous gallantry and intrepidity in action in connection with the unprovoked and unexpected armed attack on U.S.S. LIBERTY (AGTR-5), in the Eastern Mediterranean, on 8 June 1967. During the early afternoon hours, U.S.S. LIBERTY, while engaged in peaceful operations in international waters, was attacked without warning by jet fighter aircraft and three motor torpedo boats. The LIBERTY was subjected to intense incendiary, machine gun, and rocket fire and was placed in extreme jeopardy by a torpedo hit below the waterline on the starboard side in the vicinity of the Research compartment. Severe structural damage and extensive personnel casualties were incurred. Staff Sergeant Lockwood, serving with U.S.S. LIBERTY on temporary additional duty, was in the Research Operations spaces at the time of the attack. After the torpedo attack, Staff Sergeant Lockwood, despite severe burns, the rapid rise of water, heavy smoke and complete darkness, was instrumental in the rescue of personnel from the flooded compartments, thus averting even further loss of life. Without regard for his personal safety or his injuries, he assisted in the rescue until ordered to leave. His calm, rational thinking and actions evidenced a high degree of professional competence and moral fiber. After the attack and again without regard for his own injuries and comfort, Staff Sergeant Lockwood spent long tedious hours assisting in the care of the wounded and in whatever duties were required. Staff Sergeant Lockwood's initiative and courageous actions were in keeping with the highest traditions of the United States Naval Service.
Learn more about the USS Liberty via the USS Liberty Veterans website. Featured on this site are recent newsletters, historical information, and news about reunions.