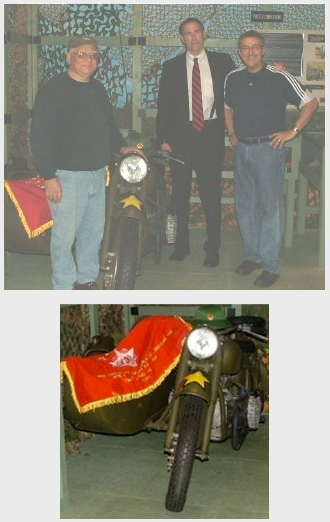 A Vietnam War-era North Vietnamese KMZ-750 motorcycle on loan from Foundation member George Mele was moved into the Museum's Vietnam exhibit in December 2008. The motorcycle is an integral part of a significantly redesigned Vietnam exhibit. The on-loan motorcycle is equipped with communications gear used by the North Vietnamese and Vietcong during the Vietnam War, and came with two North Vietnamese flags also on loan.
The KMZ 750's history dates back to 1939 Stalinist Russia. They were produced for over 50 years evolving into the KMZ 750—by now nicknamed simply "molot" the Russian word for hammer. They were used extensively by the North Vietnamese Army throughout the 1960s. At least 3,000 were shipped from Odessa to Haiphong and used by the NVA as command, control, and communications/liaison vehicles in a tactical environment. They were the transportation-of-choice for junior officers who would monitor the progress of convoys, scout ahead for obstacles and ambushes, and report incidents and breakdown of cargo vehicles. Hundreds were used in the Tet Offensive buildup in 1967-68.
The NVA communicated on the trail using the then state-of-the-art Soviet R105 transceiver. This was a short-range and relatively low-power push-to-talk radio that was very difficult for our fixed collection facilities to intercept and exploit. However, our sensitive AN/TRD 15 and high frequency direction finding (HFDF) equipment was frequently able to hear and locate them with success. The Army Security Agency (ASA) and ARVN units using portable AN/PRD-1 DF sets were also able to hear and locate them. We also employed RU-21 and EC-47 airborne intercept and direction finding aircraft to locate and track the HF and low-VHF communications with excellent results. Pictured below are NCMF benefactor George Mele (L) with NCM curator Patrick Weadon, and Acquisition Chairman Dave D'Auria during the motorcycle installation.