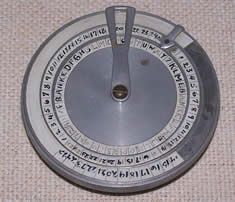 Through a colleague of his, Dr. David Kahn recently advised us that Riverbank Labs in Geneva Illinois has two copies of the Wheatstone Cryptograph, (pictured here) a rare pre WW I-era cipher device used extensively by the British during WW I. The Wheatstone Cryptograph was invented by Sir Charles Wheatstone (1802-1875), a well-known English scientist. It was evaluated by the U.S. Signal Corps and experimental models of Wheatstone were constructed at Signal Corps Laboratories in Fort Monmouth, New Jersey, but the device was never adopted for use by U.S. forces.
During WW I, a variety of war-related research activities occurred at Riverbank Labs, including the decoding and deciphering of enemy messages. Teams of researchers lived and worked at Riverbank, to include our own Cryptologic Hall of Honor members William and Elizebeth Friedman. NSA and Riverbank Labs are derived from the same DNA, and the mission of the NSA is a direct descendant of the mission once performed at Riverbank Labs.
The Acquisition Chairman(AC) has subsequently contacted both the Director and Curator of Riverbank Labs and has negotiated a loan of one of the Wheatstone Cryptographs. The AC has also discussed pursuing a history partnership with Riverbank Labs and will facilitate a meeting with their principals in the near future.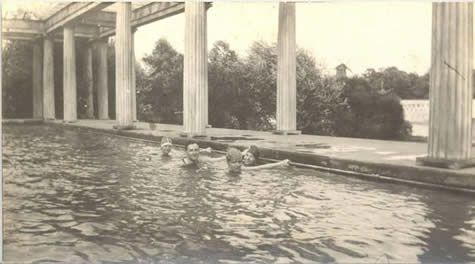 The NCM Library has an extensive collection of photos to include an undated photo of the Friedman's swimming in the Riverbank Labs pool. A copy of that photo was provided to Riverbank Labs at their request, and is also included here. A fascinating detailed history of Riverbank Labs, their association with the Friedman's, and some of the cryptologic work conducted there can be found on their Web site.
Article originally posted on 5/8/2012