Harry Letaw's Collection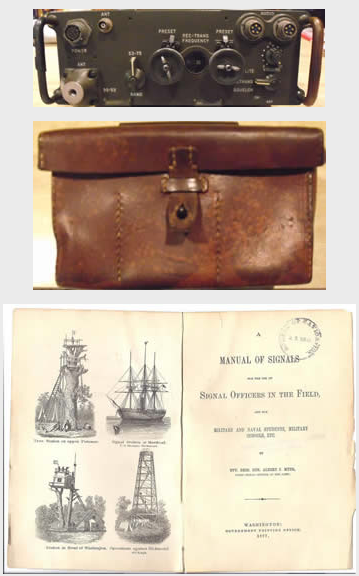 Former Essex Corporation Chairman and CEO Harry Letaw recently donated three unique items to the NCMF, all described and pictured here.
(1) PRC-25 Radio: The workhorse VHF tactical radio of the Vietnam War with over 50,000 units built by the RCA Corporation. Initially developed in 1958, the "Prick 25" as it was affectionately called was the first solid state FM tactical transceiver.
(2) WW II Japanese Field Radio Battery Case: This leather case is probably associated with the Japanese Type 94 transceiver which dates to 1935 and was used throughout WW II. The case has an open side to couple the battery and radio. This case came from the Japanese Imperial Army training base in Sagamihara Japan, occupied by the U.S. Army 1st Calvary Division in September 1945. The facility is now known as Camp Zama.
(3) 1877 Manual of Signals: This 500+ page tome in excellent condition was authored by BG Albert Meyer, the father of the U.S. Army Signal Corp. It is a comprehensive work on signals, codes and signaling methods of the era, and contains unique illustrations of code types and signaling stations in use during the post-Civil War period.