Special Hall of Honor Award Presentation for Mr. Richard "Dick" Bernard - May 2019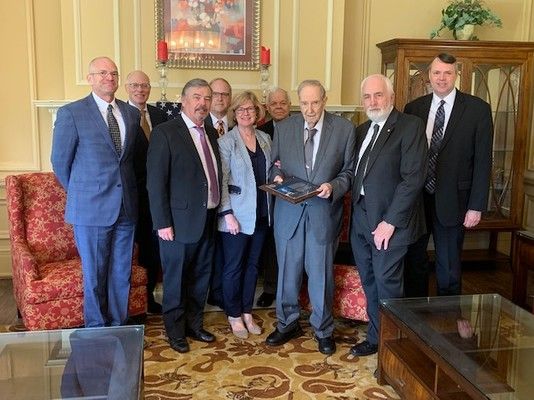 In early May 2019, a group of NSA and Foundation officials traveled to Ohio to make a very special presentation to one of the 2018 Cryptologic Hall of Honor inductees, Mr. Richard "Dick" Bernard, who had been unable to attend the Agency's official ceremony. Mr. George Barnes, NSA Deputy Director, officiated the ceremony, which was attended by Dick's friends and family, including his daughter Mrs. Ann Maris Bernard, and son-in-law Mr. Robert MacLachlan.
During the presentation, Barnes reminded everyone of the importance of cryptologic work to our Nation's security and then focused on Dick's many achievements that earned him this high honor. He presented Dick with his official Hall of Honor plaque, as well as an NSA coin and a letter from the Director. (A gallery of photos from the ceremony is available below - courtesy of NSA.)
Dick came to NSA in 1953 to work on one of NSA's first purpose-built computers, ABNER, at Arlington Hall Station, Virginia. He led the research and development of later computer systems, and eventually supervised the transfer of these machines to Ft. Meade. From mid-1980 to mid-1983, Dick served as Director, Defense Special Missile and Astronautics (now Aerospace) Center (DEFSMAC), and he then served as the Center for Cryptologic History's (CCH) DEFSMAC historian beginning in the 1990s. Dick has written numerous monographs and articles on NSA's technical history and as CCH Chief John Tokar said of him during the ceremony, "Dick is, by far, CCH's most accomplished and prolific contributor. His ability to take complex, technical subjects and document them in a manner that is understandable to the layman is remarkable."
Making important material relatable is a key part of how Dick has contributed over the years to the National Cryptologic Museum Foundation (NCMF) and National Cryptologic Museum (NCM) - helping to make sure content in exhibits, displays, and even on websites and social media is accurate, interesting, and informative.
Mr. Larry Castro attended Dick's ceremony as a representative of the NCMF, and as a thank you for his many years of support and invaluable contributions to the Museum and Foundation, he presented Dick with a special NCMF coin, as well as a letter from NCMF President Dick Schaeffer, Jr. In addition to sharing his knowledge and expertise, Dick has always supported the Foundation with his presence and participation at events and programs, and financial contributions.
The Cryptologic Hall of Honor was created to pay special tribute to the pioneers and heroes who rendered distinguished service to American cryptology. Dick Bernard certainly qualifies as one of those pioneers and heroes, and we at the NCMF are thrilled he received his special honor in such a personal and special way.
June 2019 update - On 12 June 2019, Dick Bernard passed away after valiantly battling leukemia. He will be deeply missed, and never forgotten by all of his friends and colleagues at the Foundation and Museum. His support, as well as his invaluable contributions of knowledge, expertise, and time will live on forever. To read his obituary, please click here.
Read the NSA article about Dick's Hall of Honor presentation.
Photo Gallery Courtesy of NSA - Click on Images for a Larger View