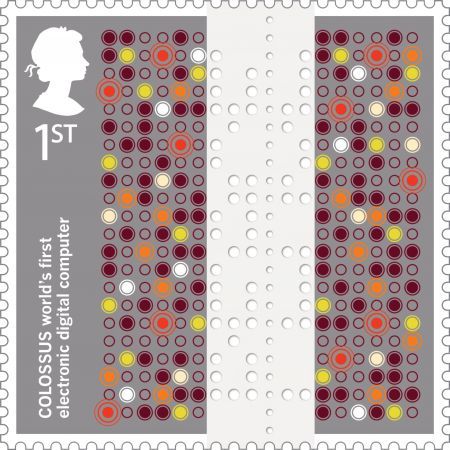 19 Feb 2014.
Article via The National Museum of Computing Web site.
Read the full article via the link below.
Colossus veterans welcome recognition of overlooked hero Tommy Flowers
Royal Mail honours Tommy Flowers with a first class Colossus stamp
Veteran Colossus operators are delighted with the recognition of Colossus, the world's first electronic computer, and its designer Tommy Flowers in the latest set of stamps issued by Royal Mail.
Royal Mail's Inventive Britain stamp issue celebrates eight key inventions of the past century in disciplines and applications ranging from materials to medicine. One of the two first class stamps in the series celebrates Tommy Flower's creation of Colossus. The series is released on 19 February 2015.
Colossus, the world's first electronic computer, was designed by Tommy Flowers to speed up the code-breaking of Lorenz-encrypted messages between Hitler and his generals. The Lorenz cipher was much more complex than Enigma and could take weeks to decipher by hand. By reducing code-breaking times to a matter of hours, Colossus enabled the Allies to learn of German war plans almost in real time. The knowledge obtained is widely recognised to have shortened the war and saved countless lives.
* A recording of the sounds of the Colossus Rebuild have recently been made by sound artist and composer Matt Parker and will be deposited in the British Library sound archives. Get a link via the TNMOC article.
READ THE FULL ARTICLE via TNMOC WEB SITE
Return to our Home page.
Click the "Return to List" link below to visit the Cryptologic Bytes Archives.