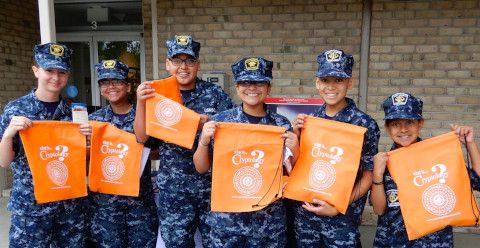 The 2017 Armed Forces/National Police Celebration took place on Saturday, May 20th at the National Cryptologic Museum and it was a GREAT success! There was so much for visitors of ALL ages to explore and enjoy. And the weather could not have been better.
The police dog demonstrations were a huge favorite - as always. Plus, everyone enjoyed experiencing reenactments, checking out vintage police and WWII vehicles, and visiting all the great booths and tables - many of them with free goodies. In fact, the orange "What Is Cryptology" bags at the NCMF table were one of the most popular free goodies. SnoCones were the perfect treat for the day. Sponsored by the NCMF and Riverbank Associates - SnoCone lovers splurged and added marshmallow topping to their favorite flavor. Why not?!
The US Navy Silent Rifle Drill Team wowed the crowd and members of the local Maryland chapter of the Hogs and Heroes Foundation* treated kids and families to a chance to check out their fantastic motorcycles. Great news - it sounds like Hogs and Heroes may have an official table at the event next year!
*Hogs and Heroes is a community of motorcycle riders that support Public Safety, the U.S. Military, and Wounded Warriors. Members of this 501(c)3 sponsor and hold fundraisers; perform Honor Missions for fallen police officers, firefighters, emergency medical workers, members of the military killed in combat operations and U.S. military veterans; plan and participate in fun rides and events; and participate in fundraisers, fun rides, and events of other charitable organizations. Hogs and Heroes strives to set an example of good Citizenship for the youth of our Nation. Learn more at www.hogsheroesfoundation.com.
Thanks to all who came out to enjoy this event and special thanks to ALL the volunteers who helped to make the event special for all who attended. Check out the photo gallery below for more pics from the day - click on images to view them larger. See you next year!
Cryptologic kids!

Handsome police dog who was working all day doing great demos!

Thanks for visiting the NCMF table!

Police dog demos were a big hit!

We Were So Glad to Have Members of the Local Chapter of Hogs and Heroes at the 2017 Armed Forces/Police Celebration!

SnoCones with Marshmallow please!

Hope you visited all the great tables at the event!

Everyone wanted a "What Is Cryptology" Bag!