20th Annual Eagle Alliance Hosted Crypto Cup Golf Tournament Benefiting the NCF (Oct 2021)
The 20th Annual Crypto Cup Golf Tournament was held on Thursday, October 7, 2021 at the Compass Pointe Golf Course, in Pasadena, MD. The weather was beautiful, high 70's and mostly sunny, providing our 133 players a day of networking and fun. The day began at 8:00 a.m. with a 9:00 a.m. shotgun start. Volunteers checked in golfers, distributed participant bags, and photographed the event. A Mega-Putt contest (sponsored by VMware) was held before the tee-off, and Joanne Cipriano, from CyberCore, was the winner. Players also enjoyed a hot dog, delivered to them this year (sponsored by Comso).
Spy Hole 2021
The always popular Spy Hole was a lot of fun with players posing and showing off their disguises. See more Spy Hole photos in the main photo album.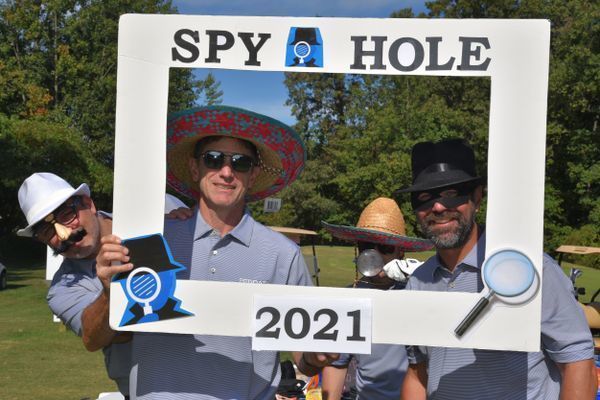 ---
Celebrating 20 Years of the Crypto Cup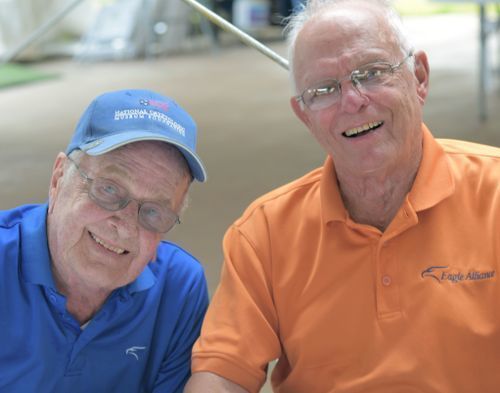 To celebrate the 20th anniversary, we asked golfers to wear their oldest Eagle Alliance golf shirt for a chance at a prize. We had four golfers who proudly showed off their pre-2012 shirts: Dick Schaeffer, Bill Saadi, Jim Philblad, and Tim Johnson.
---
2021 Crypto Cup Awards Banquet
After 18 holes of play, everyone gathered for an Italian buffet lunch, as well as the Awards (sponsored by AccuTech, Corning, Elastic, and TechUSA). Eagle Alliance presented a check to the National Cryptologic Foundation for $30,000. This event has raised over $768,000 in 20 years!
2021 Crypto Cup Winners!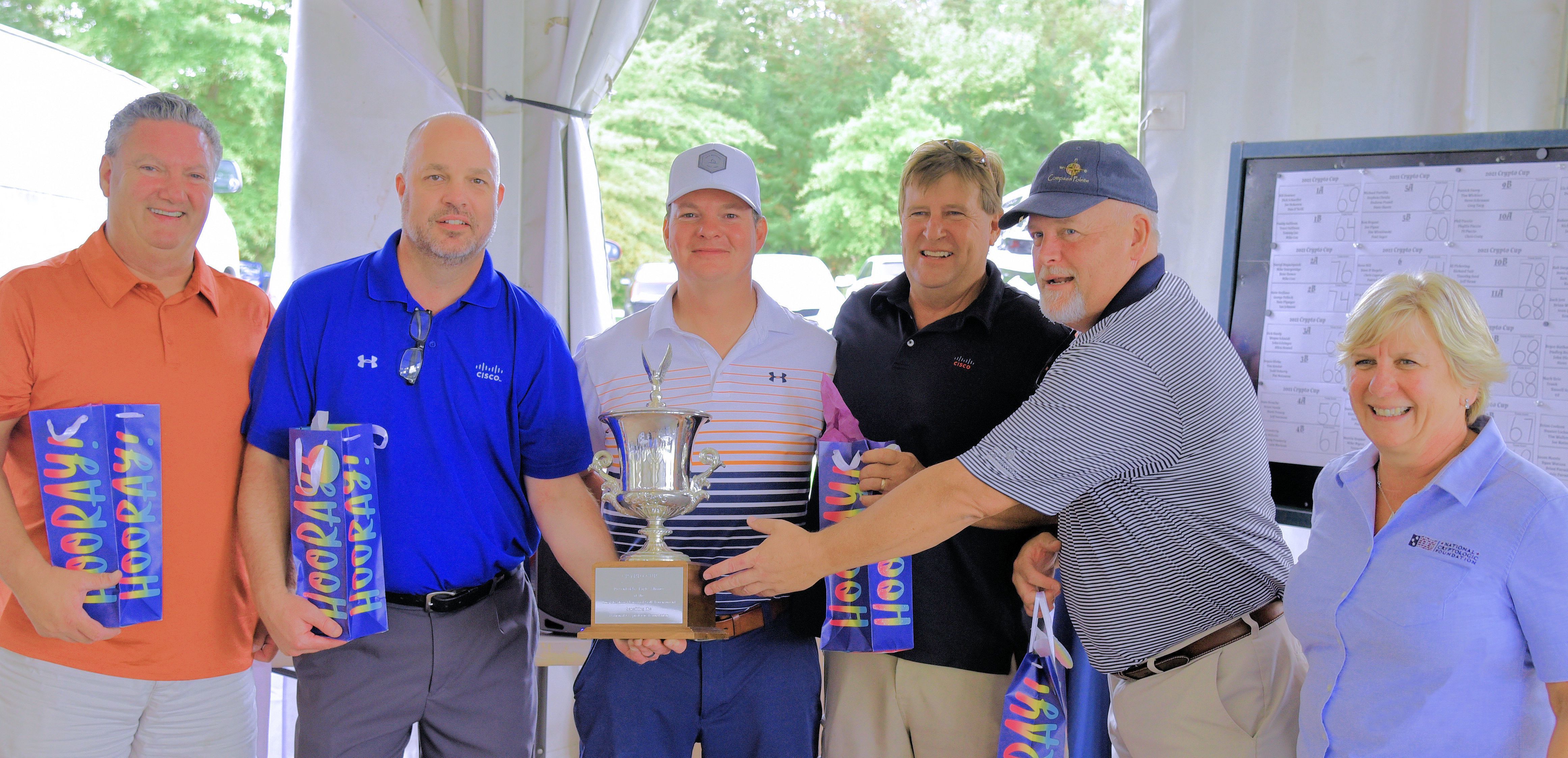 Top Three Teams for 2021:
· First Place: Dave Broache, Mark Pennsy, Brian Swain, and Jeff Swenson (representing Cisco, with a score of 59)
· Second Place: Paul Sager, Jim Wisnewski, Joe Flynn, and Ron Bryant (Team Comso)
· Third Place: Eddie Riggie, Dudley Bradburn, Bryce Hathaway, and Russell Scobee (Team Hathaway)
2nd and 3rd place Crypto Cup 2021
Congratulations to these additional contest winners:
· Longest Drive – Ladies: Brigette Lewis
· Longest Drive- Men: Paul Sager
· Closest to the Pin: PJ Puccio
---
Raffle & Silent Auction 2021
The raffle was a great success, raising over $1380! Many thanks to all who donated the fantastic prizes.
This year we did something new and partnered with AmFund, another charitable organization, who held a silent auction of great vacation travel to help raise additional funds for the NCF. By the end of the day, two trips had been claimed.
There is a special donation page, just for the Crypto Cup, and we thank all who donated.
---
THANK YOU to Crypto Cup 2021 Sponsors, Volunteers, Donors, and Golfers!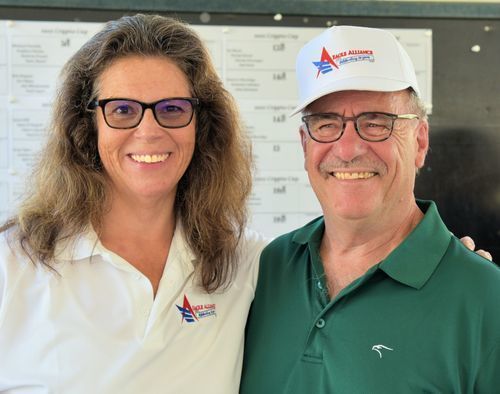 The event was such a success thanks to all of the sponsors, players, donors, and volunteers.
The NCF is especially thankful to Stephanie Brandhofer, Event Coordinator, for ensuring a successful tournament once again. This was Stephanie's last year to organize the Crypto Cup, and we are deeply grateful for her passionate support of the Foundation and for her dedication each year to producing a fantastic golf fundraiser.
Sponsors: Please see the full list of our Sponsors noted below or visit our 2021 Sponsors page.
Volunteers: Alan Brandhofer, Sabra Buckaloo, Denise Deal, Frank Eilbacher, Theresa Mills, and Jim Taylor.
CLICK TO SEE THE FULL TOURNAMENT PHOTO ALBUM