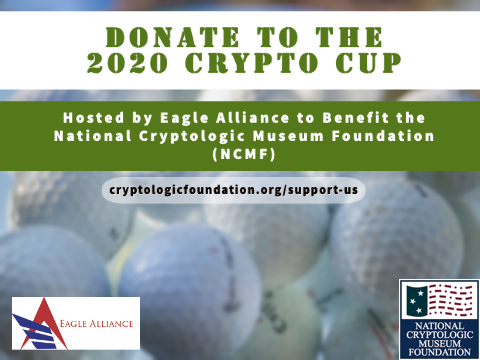 Support the 2020 Crypto Cup with a Donation Today!
The Crypto Cup Golf Tournament is hosted by Eagle Alliance and held annually to benefit the National Cryptologic Museum Foundation (NCMF).
The 2020 Crypto Cup was postponed to 24 September due to the Coronavirus pandemic. With an abundance of caution, the event is still scheduled to take place, but we anticipate the final fundraising tally may not match the success of prior years.
We understand these are challenging times and many are in need. If you are able, we hope you will consider supporting this very important annual fundraiser for the Foundation. Although you can support the Crypto Cup by registering to play, sponsoring, donating a raffle item, or purchasing raffle tickets.....you can also make a donation to the Crypto Cup using the secure online form below. Donations made using this form will be included in the tournament's final fundraising tally.
*** The 2020 Crypto Cup RAFFLE is being held ONLINE due to safety concerns. The raffle is OPEN to ALL and you can purchase tickets for just the items you most want to win! There are more than 20 fantastic prizes to include gift certificates, corporate swag, and special items like Garmin devices. The online raffle is open from 9/13 to 9/22 at 3pm EST. VISIT THE ONLY RAFFLE NOW.
Get more info about playing or sponsoring. Learn about the history of the tournament and see photos and results from past years.
THANK YOU!
The IRS classifies the Foundation as a 501 (C)(3) organization, which, under the Federal Tax Code, permits you to deduct your contribution to the full extent of the law. All documents pertaining to the Foundation's tax exempt status are available for inspection upon request.