2020 Crypto Cup Results & Recap
Results of the 19th Annual Tim Sheahan Memorial Golf Tournament (aka Crypto Cup)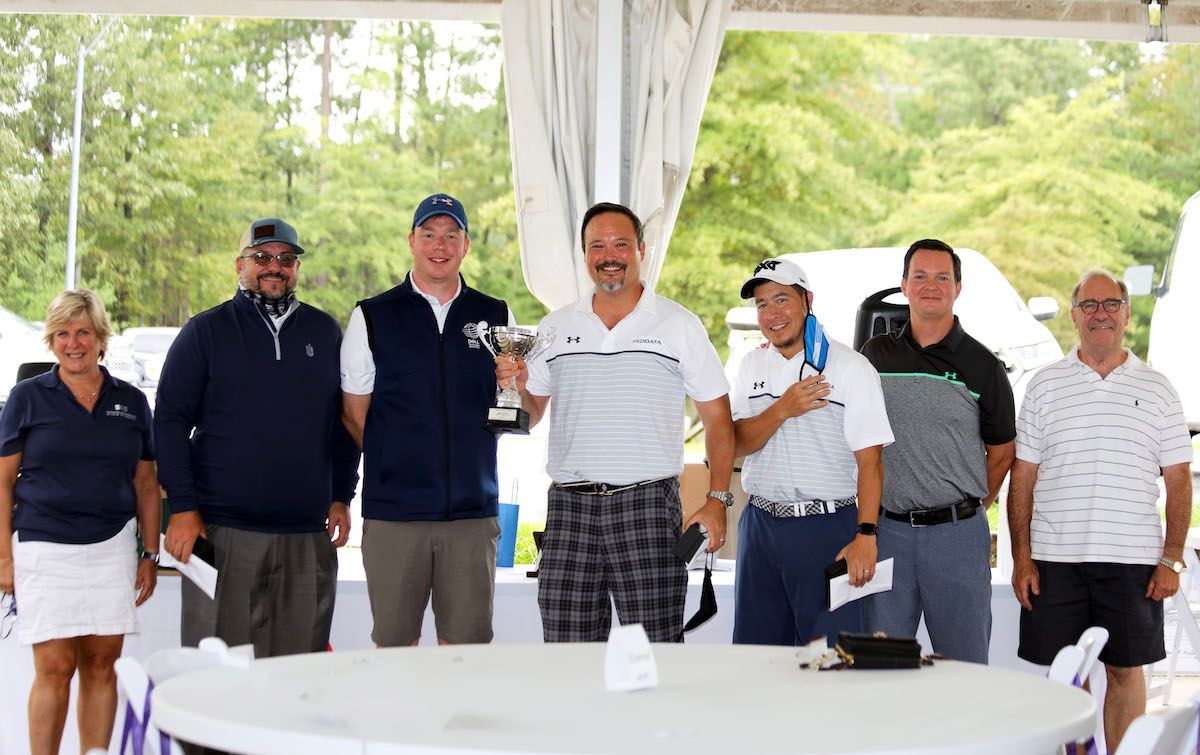 The 19th Annual Crypto Cup Golf Tournament was held on Thursday, September 24, 2020 at the Compass Pointe Golf Courses, in Pasadena. As a result of COVID, this year's event was a little different from prior years, so that our 120 players could safely enjoy a day of fun and competition.
The day began at 7:30 a.m. with a Captain's Choice format. Volunteers checked in golfers, distributed participant bags, and photographed the event. A mini version of the Mega-Putt Contest (sponsored by AT&T) was held before the tee-off with a representative from each team putting, and a $100 gift certificate going to winner Bob Reid, from Mantech.
This year, players enjoyed hot dogs delivered to them courtesy of CyberCore Technologies. The always popular and often entertaining Spy Hole was modified due to safety precautions, but players still had fun posing and showing off their masks. The AT&T team (Aaron Clevenger, Mark Paskowski, Earl Carbone, and Donald Holman) won prizes provided by CyberCore Technologies.
2020 Crypto Cup Awards & Check Presentation
After 18 holes of play, everyone gathered together for a boxed lunch of BBQ and chicken, as well as the Awards portion of the event (sponsored by ElasticSearch and Tech USA Government Solutions).
Eagle Alliance presented a check to the National Cryptologic Museum Foundation for $31,000 and has now raised over $735,000 with this event in 19 years. In total, the 2020 Crypto Cup raised over $33,000 for the NCMF.
Laura Nelson, NCMF President and CEO and Dick Schaeffer, NCMF Board Chairman, accepted the check and presented Jim Millette, Deputy Program Manager of Eagle Alliance, with an NCMF Commemorative Coin.
Congratulations, Winners!
Top 3 Teams:
First Place: Allen Heuvel, John Gelsinger, Wayne Schmidt, and Rick Hardy (representing FedData, with a score of 59)
Second Place: Steve Mencik, Chris Skowronski, William Sabia, and Doug Krueger (Team Mencik)
Third Place: Bryce Hathaway, Dudley Bradburn, and Mark Whitley (Team Hathaway)
Other Contests & Winners:
Longest Drive – Ladies: Reiko Powderly
Longest Drive- Men: Mark Paskowski
Closest to the Pin: Mike O'Haver
2020 Crypto Cup Raffle
The Crypto Cup Raffle was conducted ONLINE this year and was a great success, raising over $2300! Many thanks to all who donated the more than 20 fantastic prizes. We really appreciated everyone's flexibility in participating in the raffle in a new way. See the list of winners.
There is also a special Crypto Cup donation page, and we thank all who donated.
Photos!
Of course there are always many great photos from the Crypto Cup. From the Mega Putt contest through the Awards, great moments are captured. And the golfers always provide us with entertaining shots at the popular Spy Hole! CLICK TO SEE THE FULL TOURNAMENT ALBUM.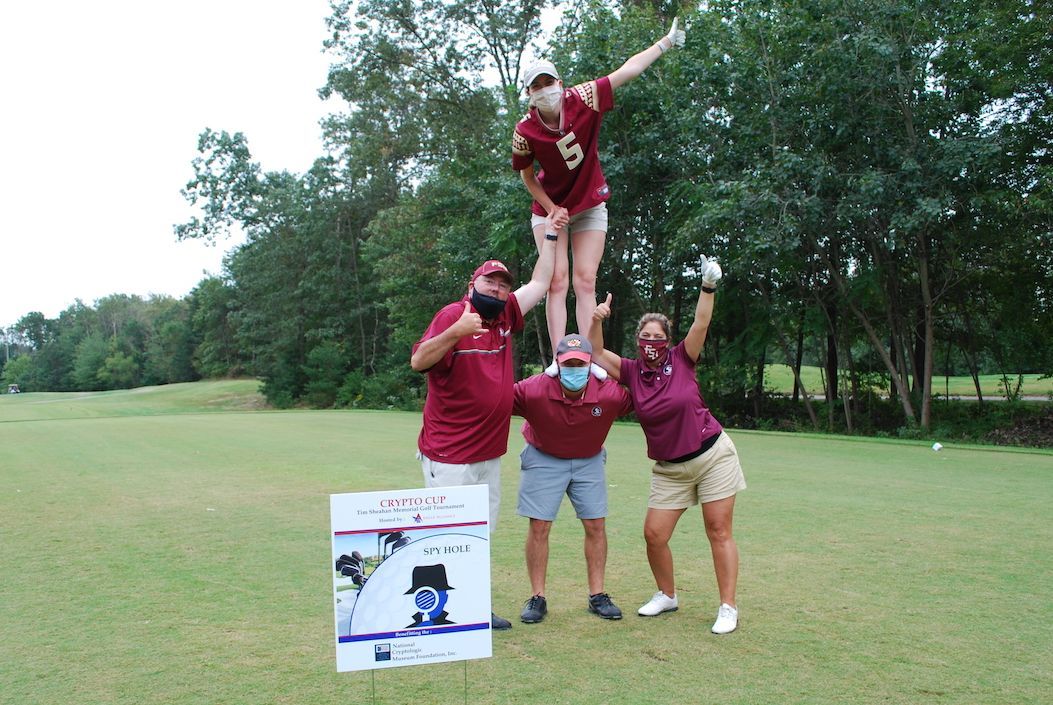 Gratitude for Sponsors, Donors, Participants, and Volunteers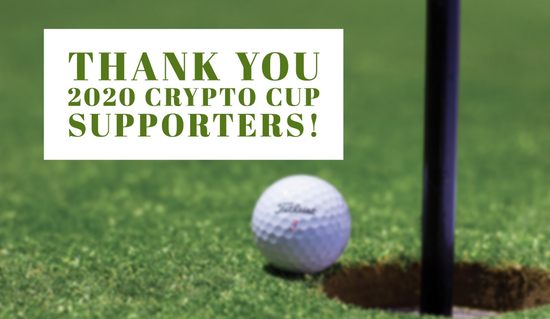 The 2020 Crypto Cup was a success thanks to all of the generous Sponsors (full list below), players, raffle prize donors, volunteers, and others who made donations or purchased raffle tickets. We also wish to thank the Compass Pointe Golf Course management team who took extraordinary safety measures for the tournament, protecting the health and safety of our golfers and volunteers. Finally, the National Cryptologic Museum Foundation is especially thankful to Stephanie Agostinelli, Event Coordinator, for overcoming this year's unique challenges to ensure another successful tournament.
Sponsors (Visit the 2020 Sponsors page for more info.)
AT&T
Cisco
Chesapeake Network Installations
COMSO
CyberCore Technologies
Dell Technologies
Elasticsearch, Inc.
FedData
Juniper
Norseman Defense Technologies
Seagate Government Solutions
TechUSA
VMWare
In-Kind Donors
Chris Frost
Clarity Innovations
CollabraSpace
Cornerstone Defense
FedData
Geiger
Mission BBQ
Nexxis Solutions
Superior Communications, Inc.
Tailored Access
TFCU
The Hathaways
The Overstreets
Varen Technologies
Event Coordinator
Stephanie Agostinelli
Volunteers
Denise Deal, Frank Eilbacher, Lynn Hathaway, Loryn McMillin, Jim Taylor, and Bonnie Wickham.