Learn about the Native American Code Talkers.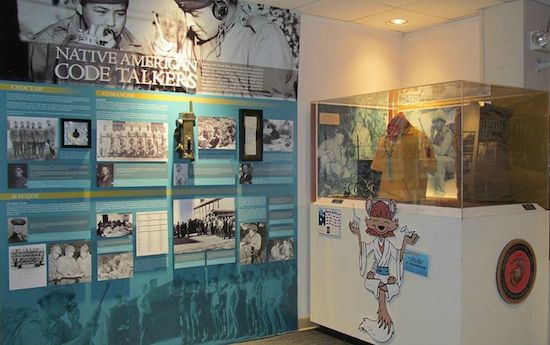 ---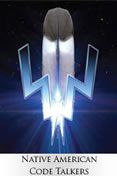 In December 2014, the Native American Code Talker exhibit at the National Cryptologic Museum was updated. The new exhibit highlights the World War I Choctaw Code Talkers, as well as the Comanche and Navajos of World War II.
These individuals served in multiple theaters of war in both world wars. They served for love of country, adventure, economic, and other reasons. They were soldiers, marines, and sailors. They were patriots. They served as Code Talkers, saving thousands of lives by creating unique codes and baffling the enemy with secure voice communications. They served as infantryman and sailors, many earning the nation's highest award for bravery, the Medal of Honor.
In 2013, the Native American Code Talkers were the first group to be inducted (as a whole entity) into the NSA/CSS Cryptologic Hall of Honor. Here is their Hall of Honor entry which can also be viewed on NSA.gov:
Native American Code Talkers served in both world wars. Their frontline service, keeping U.S. tactical communications invulnerable to enemy eavesdroppers, saved thousands of American and Allied lives.

While the U.S. had adequate cryptographic systems for written communications, the only effective scrambler for voice communications was unsuited for tactical use. The code talkers provided absolute security and speed of encryption and decryption when seconds counted on the battlefield.

The first code talkers were Choctaws in World War I. In World War II, code talkers from many tribes served in the North African, European, and Pacific Theaters of Operations. Tribes known to have participated in World War II were the Assiniboine, Cherokee, Chippewa/Oneida, Choctaw, Comanche, Hopi, Kiowa, Menominee, Muskogee/Creek, Navajo, Pawnee, Sac and Fox, Sioux (Lakota and Dakota dialects). Native Americans served for many reasons ranging from patriotism and defending their land to economic and opportunity to travel. Recognition for their service has included state and local governments, the U.S. Congress, and the French Chevalier Order of Merit.

Because of their secrecy, many code talking programs were not well documented. Also, in sometimes pairs of Native Americans engaged in code talking on an ad hoc basis. For these reasons, historians may not know all the tribes that engaged in this critical task.

The induction of Native American Code Talkers into the NSA/CSS Cryptologic Hall of Honor is intended to remember all code talkers, known and unknown. Their personal bravery saved lives and enabled the success of many operations.
The official plaque presentation took place in April 2014 at the National Museum of the American Indian in Washington, DC. Learn more about the Code Talkers and these honors.
Read an article about the World War I Choctaw Code Talkers. You can find more articles about Code Talkers, including Navajo Code Talker Chester Nez in our Cryptologic Bytes Archives.
Read an article from History.com about the origination of the Code Talkers, "How Native American Code Talkers Pioneered a New Type of Military Intelligence" - see an excerpt in our Cryptologic Bytes archives.
Plus, you can watch a video on History.com's YouTube channel - "Navajo Nation's Secret Role in WWII/History."
Native American Code Talker Dress Coat & Service Cap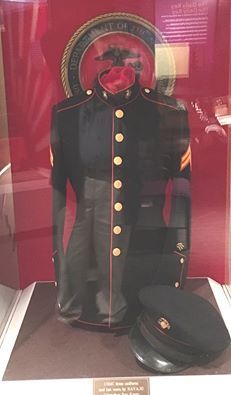 One special feature of the NCM's Native American Code Talker exhibit is this dress coat and service cap that belonged to Navajo Code Talker Corporal Rex Kontz, USMC, from Fort Defiance, Ariz., who served with the 7th Marine Regiment, 1st Division, during World War 2.
---
Main Portion of Native American Code Talker Exhibit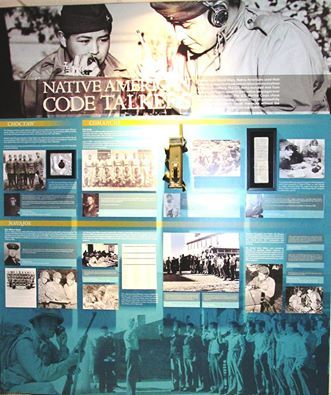 The main portion of the Native American Code Talker exhibit features images and information about these brave men who saved thousands of lives with their unique codes and skills.
---
Navajo Code Talker Association Shirt & Other Items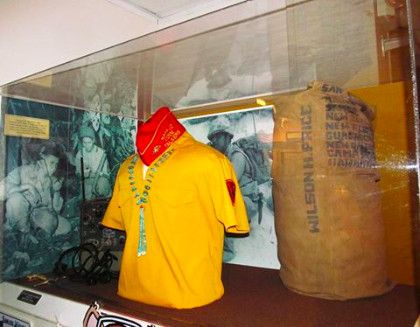 The NCM's Native American Code Talker exhibit also features this Navajo Code Talker Association shirt, worn by Wilson H. Price, who served in the U.S. Marine Corps until 1970 when he retired as a master sergeant. The overseas bag behind the shirt also belonged to Price and accompanied him on his travels as a Marine.
Also seen in the exhibit is a Type CRI-43007 transmitter, which was used by the Navajo Code Talkers, who served in the USMC in the Pacific campaigns of World War II. Westinghouse manufactured these rugged 32-pound radios for the Navy Department.