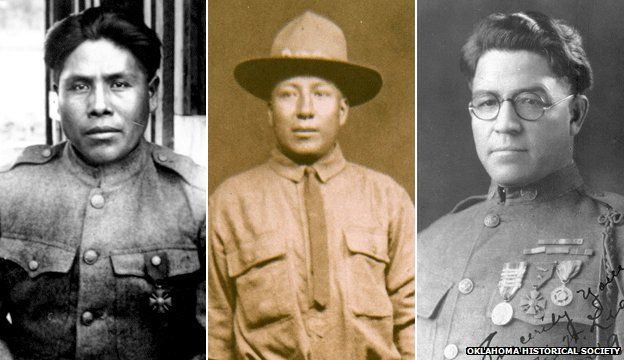 BBS News Magazine article by Denise Winterman
18 May 2014
When US military codes kept being broken by the Germans in WW1 a Native American tribe came to the rescue. They just spoke their own language - which baffled the enemy - and paved the way for other Native American "code talkers" in WW2.
It's an irony that probably didn't go unnoticed by Choctaw soldiers fighting in World War One. While the tribe's children were being whipped for speaking in their native tongue at schools back home in Oklahoma, on the battlefields of France the Native American language was the much-needed answer to a very big problem.
In the autumn of 1918, US troops were involved in the Meuse-Argonne Offensive on the Western Front. It was one of the largest frontline commitments of American soldiers in WW1, but communications in the field were compromised. The Germans had successfully tapped telephone lines, were deciphering codes and repeatedly capturing runners sent out to deliver messages directly.
"It was a huge problem and they couldn't figure out a way around it," says Matt Reed, curator of American Indian Collections at the Oklahoma History Center, the headquarters of the Oklahoma Historical Society.
The solution was stumbled upon by chance, an overheard conversation between two Choctaw soldiers in the 142nd Infantry Regiment. The pair were chatting in camp when a captain walked by and asked what language they were speaking. Realising the potential for communication, he then asked if there were other speakers among the troops. The men knew of Choctaw soldiers at company headquarters. Using a field telephone the captain got the men to deliver a message in their native tongue which their colleagues quickly translated back into English. The Choctaw Telephone Squad was born and so was code talking.
visit the BBS News Magazine site for the rest of this article and additional photos.