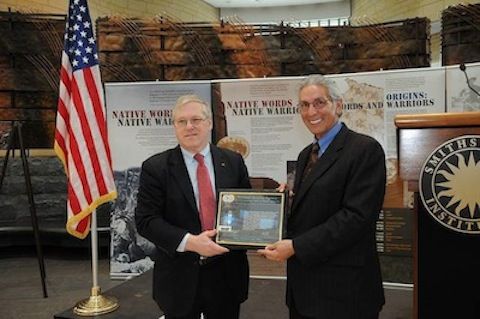 In November 2013, NSA proudly inducted the Native American Code Talkers into the NSA Cryptologic Hall of Honor. While each of the first 66 inductions since 1999 to the HoH were individuals, the Code Talkers were the first group to be added to the Hall of Honor.
NSA's custom at the ceremony is to present a plaque to the honoree or his/her family member. As there was no single entity representing ALL Code Talkers, the chairperson of NSA's American Indian/Alaska Native Employee Resource Group accepted the plaque until we found a permanent home for it. Visit our Hall of Honor page and scroll down to 2013 Inductees to learn more and for a special note about the meaning of the symbol created for the Native American Code Talkers' Hall of Honor page. You can also visit the NSA Hall of Honor page for the Native American Code Talkers.
After some research, NSA found that place to be the National Museum of the American Indian (NMAI) in Washington, D.C. By direction of Congress, the NMAI maintains the names of all Native American Code Talkers and has two exhibits dedicated to the Code Talkers. When the NSA staff asked the NMAI if their director would be willing to accept and display the plaque in their museum, the answer was an enthusiastic "Yes."
The ceremony took place in the Potomac Atrium of the NMAI (located at 4th and Independence, in Washington, DC) on April 8, 2014 at 11 a.m. The Native American Code Talkers HoH Family Plaque was unveiled and presented by NSA Deputy Chief of Staff Trumbull D. Soule to the NMAI Director, Mr.Kevin Gover (Pawnee).
Following remarks, there was a small, private reception following the ceremony. Some Native American customs were integrated into the ceremony. To see an album of the photos from the event, click HERE.
Return to HOME PAGE.
To go to the Cryptologic Bytes archives page to see more articles such as this one, please click below on the Return to List link.