24th NCF General Membership Meeting & Annual Cryptologic Symposium - May 2022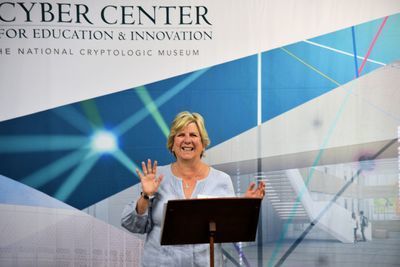 The 24th National Cryptologic Foundation (NCF) General Membership Meeting & Annual Cryptologic Symposium was held on 10 May 2022 and was sponsored by the University of Maryland Global Campus (UMGC). The Foundation is very grateful to UMGC for their continued support of the Foundation's mission and programs. We also wish to thank all who attended the event either in person or via Zoom. We were pleased to have you with us!
The event was a hybrid presentation (Zoom webinar/limited in-person). The program included inaugural Education Program awards, honors for former staff and volunteers, and In Memoriam tributes. Special guest speakers included Ms. Betsy Rohaly Smoot and Mr. Harry Wetherbee. In addition, Ms. Natalie Laing provided remarks from the National Security Agency (NSA) and Dr. Vince Houghton provided an update about the National Cryptologic Museum (NCM). From the NCF, guests received a thorough update about the Foundation's Education Program and CEO Laura Nelson provided updates about major Foundation activities and the status of the Cyber Center for Education and Innovation (CCEI) (facility). Details, remarks, photos, and links to video are provided below.
---
In Memoriam
Ms. Laura Nelson paid tribute to members of the NCF community who passed away since the last NCF GMM. See photos and details below. Visit the Commemorate section of the NCF website to view the Recently Departed page, as well as the In Memoriam Registry.
---
NCF Education Program Update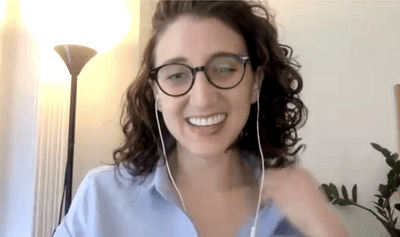 The NCF Education Program Manager provided a thorough review of the Education Program's progress and plans, to include future podcasts and in-house #CyberChats for students and teachers. See video presentation below.
---
Education Award Presentations
CEO Laura Nelson presented the first Excellence in Support of the NCF Education Program awards. Northrop Grumman received the 2022 Corporate Award and Dr. Gregory Von Lehmen received the 2022 Individual Award. See below for remarks about the awardees and photos from the presentation. See video presentation below.
2022 Excellence in Support of the NCF Education Program - Corporate Awardee Northrop Grumman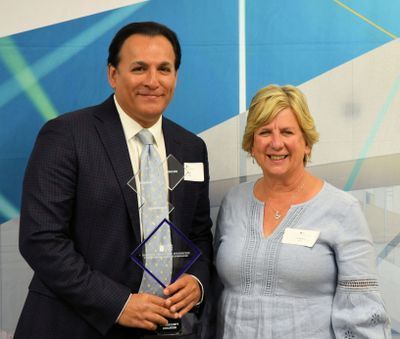 Northrop Grumman has believed in our efforts since 2017. As the NCF presented its dream for an education program founded on a partnership with the University of Maryland Global Campus and NSA's College of Cyber, Northrop Grumman saw the potential for excellence.
Rooted in their support was the early idea of creating a cyber curriculum and a virtual Cyber Center for Education and Innovation. Sustained funding is key to allowing ideas to blossom into reality. Northrop Grumman's commitment to a nine-year $100,000 annual donation became the cornerstone of our program.
Today, we have community-recognized Cybersecurity Curriculum Guidelines used by many like Teach Cyber, University of AL Huntsville, Army Junior ROTC program, and others to create in-classroom cybersecurity curriculum materials. Through our virtual #CyberChats we've reached into hundreds of classrooms across the United States, sharing cybersecurity principles and piquing the interest of thousands of students to consider cybersecurity professions.
Our success today is only possible due to Northrop Grumman's generosity and sustained support. It gives us great pleasure to present the inaugural Excellence in Support of the NCF Education Program – Corporate Award - to Northrop Grumman.
2022 Excellence in Support of the NCF Education Program - Individual Awardee - Dr. Gregory Von Lehmen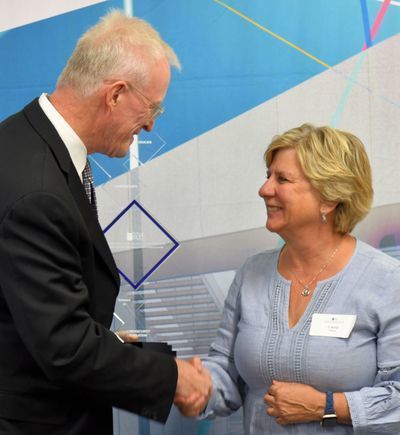 To help guide the NCF's early ideas on education, an advisory board between UMGC and the NCF was established in 2014 called the Cyber Education Program Advisory Board (CEPAB). In short, it was formed so the UMGC (then called University of Maryland University College) and the NCF could work together to create a proposed education program. The UMGC committed $250,000 in support. Dr. Greg Von Lehmen was central to the running of that organization. Early efforts included two joint symposiums, Cyber at the Crossroads, and Eligible Receiver 97, and presentations during Cyber Maryland conferences.
Greg was instrumental in NCF discussions throughout 2017 as we crafted our vision for the NCF's Education Program. His astute guidance and partnership led to the proposal accepted by Northrop Grumman and the start of the NCF's efforts to date. The CEPAB became a fertile ground to craft, discuss, and put into action key program initiatives. Greg's help in creating the NCF's message and participation in an early meeting with the National Initiative for Cybersecurity Education (NICE) legitimized the NCF's stature within that community that continues today.
Greg has been the dominant player in helping us establish our Education Program. His advice and counsel were instrumental to the work we did with the CEPAB, two symposiums, NCF operational program agreements with NSA, working with Maryland State committees, and many more behind-the-scenes activities.
It gives us great pleasure to present the inaugural Excellence in Support of the NCF Education Program – Individual Award to Dr. Greg Von Lehman.
2022 Individual Education Award - Von Lehmen
---
Honoring Former Staff & Volunteers
Ms. Laura Nelson presented several former NCF staffers and volunteers with gifts of appreciation for their many years of dedication and support. See below for photos, as well as remarks made by Laura and by the honorees. Unfortunately, due to sound issues, video of this portion of the presentation is not available at this time.
Ed Jacobs

From Laura Nelson's remarks: Ed supported the NCF for 22 years - serving as the Foundation's treasurer. He came to the office every Tuesday without fail to pay bills and conduct payroll for the organization. He also oversaw the organization's annual audit – a tedious and complicated task! I enjoyed our talks as he shared stories of his time at NSA.

Remarks from Ed: "I enjoyed it. It was a lot of fun and continued my years of service. Now I'm just waiting to see progress continue. Thank you."

Mary Faletto

From Laura Nelson's remarks: Mary served as the office manager for the NCF for 18 years. She was the focal point and organizer of the NCF quarterly programs and General Membership meetings. She also served as the NCF organizer of the annual Crypto Cup tournament. Mary provided administrative support to the Board chair for the quarterly board meetings, assisting in setting the agenda and ensuring that all had their materials. She essentially was the "go-to" person for the NCF.

Mary's Remarks: "It has been my honor to work for the Foundation all of these years and to work with many of the greats of the cryptologic history. And especially to work with so many of you like Ed, Bill, John Garcia, Sally, and Laura. Thank you."

Sally Botsai

From Laura Nelson's remarks: Sally supported the NCF as a volunteer for 24 years! She worked tirelessly to ensure that we have had interesting topics for our member programs and general membership meetings. She also helped with our book collection – of which we have many! Sally was also involved with our Recognition Committee, working with the those who had candidates for NSA's Hall of Honor and helping in any way she could. The task was difficult given lack of access to classified information, but she remained vigilant in the task.

Sally's Remarks: " Thank you. I appreciate this recognition and have enjoyed working with many of you over a lot of years. The Foundation is expanding into the cyber world - a world I have avoided and I will continue to do so! But I am hopeful we will be able to show the public what cryptology and cybersecurity are all about when the new Museum gets built, if it gets built, and I hope I will be around for it. Laura, it has been a pleasure working with you, so keep up the good work."

Bill Saadi

From Laura Nelson's remarks: Bill supported the NCF for 22 years as a volunteer. He took care of all of our Quickbooks entries and overall financial support for the organization - to include assisting Ed with audits. He also kept track of our membership and other contacts. In addition, he helped to manage the early websites for the organization. The thing I love about Bill is his willingness to figure out new ways of doing business. As we were making significant changes to how we organized our budget and introduced new tools, he would always say -I'm not going to learn this, or we shouldn't do this. I always knew he would come around and say, "you know I was looking into this…"

Bill's remarks: "Past and current leaders of the Foundation, General Morrison (founder), Bob Rich, Gene Becker, Linc Faurer, Dick Schaeffer, and Laura Nelson have always shown their appreciation in many ways for what I and the other volunteers and staff have done in using our time and expertise to help further the Foundation's mission. For me, it has been both gratifying and at times disappointing, mostly due to events beyond the Foundation's control. That said, it was time well spent. A special benefit for me was being able to work with my daughter Cindi who developed and supports the NCF website among other things.

I will always be grateful for General Morrison and Gene Becker asking me to be part of their team. My approximately four years with the Air Force Security Service, 40 years with NSA and 24 with the Foundation were well spent. Thanks to you Laura and all others who are supporting or have supported the Foundation – it has been my pleasure working with you. Finally, a special thanks to Ed Jacobs for making it fun and to Jackie Sherry who made my retirement so painless."

Carol Stromberg

From Laura Nelson's remarks: Carol served as the Executive Administrator for the campaign to build the Cyber Center for Education & Innovation. She arranged for the multitude of meetings with stakeholders, Founders, and state officials. She was known by all of the Founders and used her contacts well. I think her favorite part of the job was organizing the annual Founders' event, including working with the venue and ensuring that everything was perfectly put together for the event. Given her time with the project, she has a lot of the history going back to when it first started.

Bob Hunt

Remarks - Bob was with the NCF for 10 years. He worked in the office with Mary and Elaine to support the NCF's membership program. Bob put great time, care, and attention into writing letters of condolence to our member families. He also helped to make sure that people were given proper recognition in the NCF's In Memoriam Registry. In fact, he and his wife have sponsored several Registry honorees. Bob was always ready to assist at events and provided other essential administrative support to the office. His personal touch, dedication, and support are greatly appreciated.
2022 GMM honors for staff and volunteers
---
Remarks from Ms. Natalie Laing and Mr. Vince Houghton
The morning portion of the GMM included virtual remarks from Ms. Natalie Laing, National Security Agency, Director, Engagement and Policy Directorate, as well as Dr. Vince Houghton, National Cryptologic Museum Director. See video of their remarks and updates below.
---
Guest Speaker - Mr. Harry Wetherbee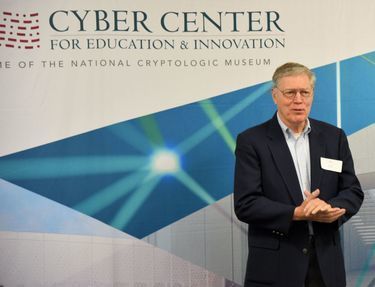 Mr. Harry Wetherbee, author and former Central Intelligence Agency, Directorate of Operations and Senior Operations Officer gave an engaging presentation based upon his book (under pen name of Donald Alexander) The Character of a Leader - A Handbook for the Young Leader. Click to learn more about Mr. Wetherbee and his book.
---
Guest Speaker - Ms. Betsy Rohaly Smoot
Betsy Rohaly Smoot presentation May 2022
Ms. Betsy Rohaly Smoot presented a fascinating talk based upon her recently published book, Parker Hitt: The Father of American Military Cryptology. Ms. Smoot is a retired intelligence historian from the Center for Cryptologic History of the National Security Agency. Click to learn more about Ms. Smoot and her book. See video of Betsy's presentation below.
---
NCF & CCEI Campaign Update from Ms. Laura Nelson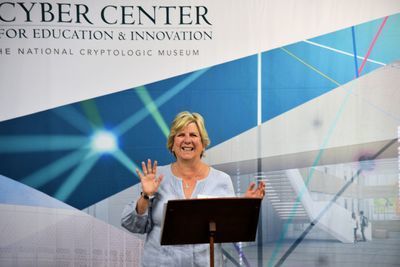 To close out the 2022 NCF GMM, Ms. Laura Nelson provided an update about the NCF's progress and activities. She also shared the latest information regarding the project to build the Cyber Center for Education & Innovation and new Home of the NCM. Finally, Laura answered several questions from attendees. See video of Laura's update, as well as Q&A below.
---
MISC Additional Photos