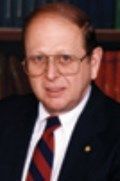 Gerald Robert Young (Jerry), 91, passed away peacefully on October 27, 2021. He was born on November 22, 1929 in Winchendon, Massachusetts to the late Hiram R. and Marian D. (Bancroft) Young. He moved to Severna Park, MD in 1969, where he resided for over 45 years.
Mr. Young had a long and distinguished career with the National Security Agency. He served in a variety of assignments ultimately becoming the Deputy Director from 1988 through 1990. Mr. Young received the Presidential Rank Award for Distinguished Executive in 1988 from President Ronald Reagan. He received the National Security Medal from President George H.W. Bush in 1990.

Jerry is preceded in death by his beloved wife of 59 years, Lucille (Kloman) Young and his brother, John B. Young. Jerry is survived by his sister, Joan Russell, his daughter, Leah Rayburn and husband Charles, his son, John C. Young and wife Tracey, 5 grandchildren, 7 great grandchildren as well as several nieces, nephews and cousin.
A memorial service followed by a reception took place on November 8, 2021 at the Oakcrest Retirement Community Chapel, 8800 Walther Blvd., Parkville, MD.
Online condolences may be made at: rayburnfam@gmail.com or ruddyduck1@comcast.net.
* Jerry was sponsored for the NCF's In Memoriam Registry by his fellow golfers in the Hazards Golf Group. Please read reflections about Jerry from his fellow colleagues and golfers below.
Message About Jerry from Don Parsons
I have known Jerry for many years both professionally and personally. My closest professional association was working as his deputy when he was the Deputy Director of Plans and Programs. It was during that period that I saw him exhibit those attributes that led to a long and close personal relationship.

In his own way he was a true patriot. His actions spoke volumes of his admiration for his country and for the work of the National Security Agency. He was strict about the rules and laws, demanding that nothing be done to diminish the reputation of the agency. He never seemed to be  promoting himself, only doing those things which he believed were beneficial to the agency. He was direct, forceful and consistent in his beliefs and one never had to doubt where he stood on any issue. One had to admired him for being able to separate issues from personalities. He did not alter his decisions based on his personal feelings or relationships but on the merits of the issues.

After retirement he became a member of a golf group consisting of other NSA retirees. He was not Mr Young, NSA Deputy Director, but just Jerry. He fit in nicely, willing and eager to exchange barbs with all. He could devastate his opponents with his dry cutting humor. He often spoke of the enjoyment he got from being a part of the group. 

Jerry and I, with our wives, enjoyed weekly dinners for years in Maryland. We also traveled together and he visited us yearly in Florida. He was a good friend and a good man. ~  Don Parsons
Message About Jerry from Bill Saadi
I must admit that I never thought Jerry was all that interested in golf, but he, like the rest of us, liked the idea of having time with those he had worked with at NSA.  He joined our group, the Hazards, in 2000 after retiring from NSA.

In October 2021, fellow Hazard Jim Philblad and I were playing in a benefit for the NCF at Compass Point Golf course, and both reflected when playing the 15th hole that this was where Jerry tripped over the rope meant to keep carts off the fairway and resulted in a fall that basically ended his golf career.

Rest in peace Jerry, and get some golf in.

Your fellow NSA employee and Hazard - Bill Saadi
Message About Jerry from Bob Craft
Jerry was an interesting fellow, and I really enjoyed discussing current events with him on our golf days. His positions were always well reasoned. No matter how early our tee time, Jerry had always read the hard news sections of the Washington Post and had a view on every Op Ed piece. A really good guy. ~ Bob Craft
Message About Jerry from Bob Prestel
My experience with Jerry was unique in that he was my boss when I was DDR, and I was his boss when he was SUSLO. When it came time to find a replacement for Jerry as D/DIR, he was my biggest supporter. ADM Studeman didn't know much about me so he took Jerry's advice, and I have always been grateful for his backing. When I was D/DIR, I sought Jerry's advice several times since he had experience in some of the sticky situations I had to deal with. He was very helpful. Although we were not close socially, we both shared a passion (along with Lucille) for the Redskins, and spent many hours discussing their usually dreadful performance. In golf, I used to tease Jerry that "8" was not in his vocabulary.  ~ Bob Prestel