"On This Date in History" Calendar
1942: Army Transfers Cryptographic Division School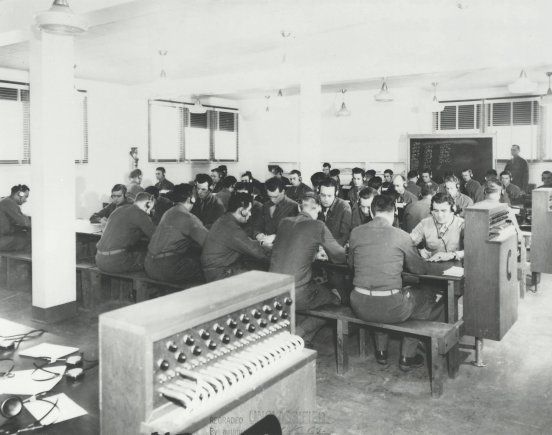 5 October 1942: The U.S. Army transferred the Cryptographic Division School from Ft. Monmouth to Vint Hill Farms, Virginia and became known as the Signal Corps Cryptographic School. It trained both officers and enlisted students in two shifts until new facilities were completed in May 1943. In June 1944, the school became known as the Vint Hill Farms School with a focus on cryptanalysis, traffic analysis, and cryptographic equipment maintenance. When the Army Security Agency (ASA) was created in September 1945, it assumed the mission of the former Signal Intelligence Service. The Vint Hill School was renamed the ASA school on 15 Oct 1946, encompassing both officer and enlisted training.
The ASA School moved to Carlisle Barracks, Pennsylvania, in 1949 and then to Fort Devens, Massachusetts in 1951, where it eventually became known as the US Army Security Agency Training Center and School (USASATC&S). In October 1976, the USASATC&S became part of the US Army Intelligence Center and School (USAICS) at Fort Huachuca, although Signals Intelligence (SIGINT) training remained primarily at Fort Devens until 1994, when all MI training was consolidated under USAICS. Today, while the responsibility for all Military Intelligence training falls to the US Army Intelligence Center of Excellence, many of the SIGINT courses are taught offsite, at Goodfellow Air Force Base in San Angelo, Texas and Corry Station, in Pensacola, Florida.
Information and image from Military Intelligence - This Week in History. Follow link below to see more.