"On This Date in History" Calendar
1930: First Japanese linguist, John Hurt, hired by SIS.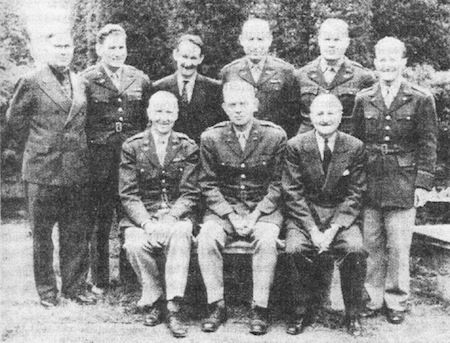 13 May 1930: The first Japanese linguist, John Hurt, was hired by the U.S. Army's Signals Intelligence Service. Though he never studied Japanese formally or lived in Japan, he amazed people with his detailed knowledge of the language (which he had learned from a college roommate!). He clearly had a genius or flair for languages. The first current Japanese message translated by Hurt and forwarded to the military for use was in 1935. It dealt with a proposal for a joint Japanese-Mexican fishing operation that might have been a cover for espionage. He was the only full-time Japanese translator until mid-1937 when another civilian translator was hired.
In the photo: Hurt is standing - third from the left.
From the NSA PDF - " Translator Extraordinaire" by Samuel S. Snyder (see link below to read full PDF)
"John Hurt made an invaluable contribution to the nation's cryptologic effort. His work as a translator of Japanese, especially prior to and during World War II, won him the admiration of the author (Samuel Snyder), along with many of the others who were connected with the Signals Intelligence Agency and the National Security Agency."