"On This Date in History" Calendar
1975: Cambodian communists captured SS Mayaguez.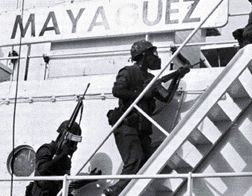 12 May 1975: the Cambodian Navy seized the U.S. freighter, SS Mayaguez. The battle between the U.S. and Khmer Rouge Cambodian was the last battle of the Viet Nam War. Image is a US Navy photo of Marines boarding the Mayaguez wearing gas masks.