Share Your Cyber Knowledge & Expertise via a Virtual Cybersecurity Chat
Join the National Cryptologic Foundation to provide virtual K-12 cyber education across the globe. We invite you to share your cyber knowledge and expertise via 30 minute virtual "Cybersecurity Chats."
At a time when we become more aware of the importance of not only online learning, but the need for increased protection of our online activities, opportunities to inspire and encourage students to embrace cyber education and career fields is vital.
If you are interested in participating in this exciting opportunity to stimulate K-12 students' interest in cyber education and career opportunities, please click the Register Now button to provide us with your information. After registering, we will be in touch with you regarding next steps.
Thank you for your interest!
*** PLEASE NOTE - After clicking the Register Now button, you will submit your information by registering for a "Ticket." The ticket is merely a way to collect data. There is also NO charge or fee involved. Thank you for your interest & cooperation!

---
We Welcome You to the National Cryptologic Foundation & Invite You to Explore Our Site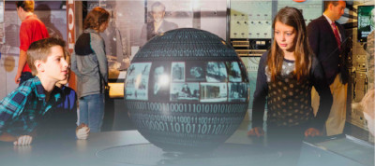 If you are a new visitor to the National Cryptologic Foundation's website, we invite you to take some time to learn more about our organization and consider getting involved. A great place to start is to check out our MISSION.  Find out what EDUCATE - STIMULATE - and COMMEMORATE mean to us.
We also hope you will learn about the new Cyber Center for Education and Innovation and home of the National Cryptologic Museum (CCEI/NCM). The Foundation is currently managing the campaign to build the new facility. But in the meantime, new Education Initiatives are already taking place.
Our periodic newsletter is a great way to stay updated about upcoming cryptologic programs, new education initiatives, and news about the CCEI/NCM. Check out the Newsletter Archives. You can sign up to receive it in the footer area of our website. You will also find links there to our social media sites where you can join in the conversation.
Finally - becoming a Member of the NCF is a great way to help support the National Cryptologic Museum. Learn more about Membership Options. We also are very grateful for any donations. Donations can also be designated to the help build the new facility. Join our Journey!
Thank you again, and WELCOME!