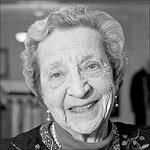 Joanne Perriens, 86, of Rockville, MD, passed away quietly at her home surrounded by her family on Friday, December 23, 2016 after a long and courageous battle with breast cancer.
She was born on September 14, 1930 in Boston, MA, to David and Bertha Bloom. Joanne attended Mount Holyoke College where she majored in Political Science. After graduation, she made her way to Washington, DC, to work for the Bureau of Indian Affairs. Soon thereafter, she began a long and successful 46-year career with the National Security Agency, where she rose to the senior executive level - a trailblazer for women in government.
In 1950 she met and later married Matthew Perriens. They were together for 61 years before Matt's death in 2014. Joanne is survived by three children, Carol, Laura (Kevin Pardue) and Jeff (Jan Perriens). She is also survived by seven grandchildren and five great-grandchildren.
Joanne was an avid bridge player, a voracious reader of all things political, both domestic and international, and a life-long Red Sox fan. Throughout her life, she supported numerous charitable causes.
In lieu of cards and flowers, the family requests that donations be made to Montgomery Hospice (Montgomeryhospice.org) or the American Cancer Society, P.O. Box 22478, Oklahoma City, OK 73123.