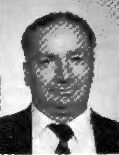 Jessie L. Tanner, an operational staff officer in the Operations Organization at NSA, died of a heart attack on December 30, 1984 at the age of 54.
Mr. Tanner served in the US Army from August 1947 to August 1956 and then joined the Agency in September 1956 as a supervisory training officer. While at NSA, he was professionalized in two career fields. For hobbies, Mr. Tanner enjoyed gardening and farming.
He was survived by his wife and children.