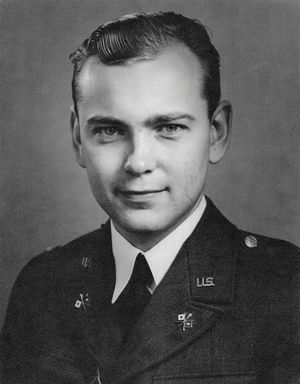 Everette Dale Marston of Roanoke, Va., died peacefully at home surrounded by family on Saturday, March 26, 2016, days shy of his 97th birthday. Born on March 31,1919, he grew up in the small town of Dana, Ill.
He met his beautiful bride, Elizabeth Schaefer, while the two were students living in neighboring boarding houses at the University of Illinois.The summer of 1941, Dale was called to report to the Army in Washington. The couple married quickly and moved east to start their lives together on $125 month. He cracked codes for the intelligence arm of the Army at Arlington Hall during World War II, retiring as colonel, and was later chief cryptographer at the National Security Agency. He retired in 1974 with 32 years of service. He was immensely proud of his work with the government and the military.
An amateur winemaker who grew grapes at his Maryland farm, Dale was a longtime member of the American Wine Society, winning a best in show award in 1994. During their 71 years married, Dale and Betty raised three daughters and one son at their house on Williamsburg Boulevard in Arlington, until moving to Roanoke in 2005. They were so clearly in love until Betty's death in February 2013, and he was at peace knowing the two would be beside each other once again. He had a huge heart and will be remembered as living a full and loving life, always helping any living creature in need.
The family wants to give special thanks to the caregivers who have helped over the past several years, especially, Marsha Vongphakdy, Chamisa Beck and Jeanette Hayes. Dale was preceded in death by his wife; and their son, William Douglas Marston. He is survived by his three daughters, Susan Woodring and husband, Thomas, of Raleigh, N.C., Anne Hitchens and husband, Jay, of Morrison, Colo., and Amy Thisdell and husband, John, of Roanoke, Va. He has 10 grandchildren, Jennifer Oldham, Julie Francis, Sara Brigman, Courtney Scholl, Kristi Marston, Robert Marston, Wendy Hitchens, Caroline Agyakwa, Katharine Thisdell and Emily Thisdell; and 12 great-grandchildren.
Dale and Betty will be buried together at a later date at Arlington National Cemetery, he with Full Military Honors. Arrangements by Oakey's South Chapel. Online condolences may be made to the family at www.oakeys.com.