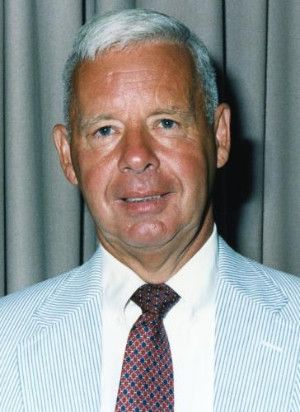 George Donald Kessler, loving husband, father, and grandfather, passed away on Monday, July 9, 2018 at the Bradford County Manor at the age of 86. George was born November 23, 1931 to Herman and Florence (Griffiths) Kessler in Luzerne County, Pennsylvania, the youngest of three children. George married Janet (Andrews) Kessler on September 3, 1955. Together, they raised four children and resided in Bowie, MD from 1963 until relocating to Pennsylvania in 1995.
Raised in Shickshinny, PA, George attended Shickshinny High School, and, upon graduation in 1949, enlisted in the United States Marine Corps. During his three-year career in the military, George developed the deep-rooted patriotism, honor, and commitment that would shape his life and, ultimately, his career path. It was here that George was introduced to Arabic and excelled in his mastery of the language. He also excelled on the Marine Corps football team, where he was affectionately known as "the brains of the football team". George went on to attend Bucknell University in Lewisburg, PA and graduated with a pre-law degree in 1957. He then began his 36-year career at the National Security Agency in Ft. Meade, Maryland as an intelligence analyst and Arabic linguist. His past-times included playing golf, working in his yard, reading, coaching youth football, and lecturing on college campuses. Learn more about George's career via this article in Bucknell alumni stories.
George was proud to have served his country, but was even more proud of his family. George is survived by his devoted wife of 62 years, Janet Kessler, sons Randy Kessler of Laurel, MD and Robert Kessler (Lynn) of Pittsfield, MA; daughters Allyson Bridgham (Michael) of Troy, PA and Kara McCoy (Jeffrey) of Severna Park, MD and grandchildren Luke Kessler (Rebecca), Weston Kessler, Lindsey Bridgham, Kelly Bridgham, Kyle McCoy and Connor McCoy. He is also survived by several nieces, nephews, and cousins.
George is preceded in death by his father, mother and brothers William L. Kessler (Penny) and Herman R. Kessler, Jr. (June).
Family and friends are welcome to call from 9:00-10:00 AM on Saturday, July 21, 2018 at the Gerald W. Vickery, Jr. Funeral & Cremation Services, Inc. 1093 W. Main Street, Troy, PA 16947. The service to honor George's life will be held at the conclusion of the viewing at 10:00 AM on Saturday, July 21st. Interment will immediately follow at Glenwood Cemetery. In lieu of flowers, donations may be made to the Alzheimer's Association on his behalf.
Donations made to the NCMF will help to place George in the In Memoriam Registry.