On 28 April 2015, the National Cryptologic Museum hosted a very special ribbon-cutting for the new William F. Friedman: A Life in Cryptology exhibit. The exhibit provides a glimpse of the over 7,600 documents and other materials related to Friedman's career that were recently released by NSA. Visit the searchable online library. You can also learn more about William Friedman via his Hall of Honor page.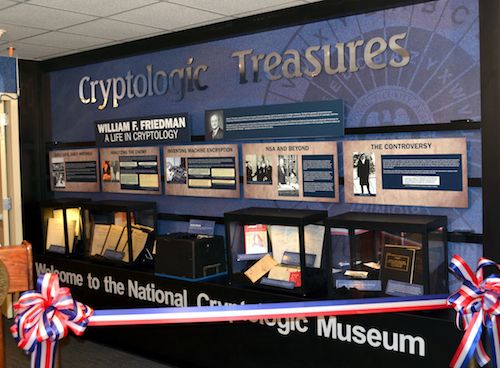 Among the guests at the ribbon-cutting were members of the Friedman family. There were several speeches, including remarks made by NCM Curator Patrick Weadon, NCMF President Dick Schaeffer, NSA Executive Director Corin Stone, NSA Associate Director for Strategic Communications Jonathan Freed, and NSA Associate Director for Policy and Records Dr. Dave Sherman.
Photo Gallery - Click on the image for larger view & details.