New Cryptologic Treasures Exhibit Celebrates 100th Anniversary of GCHQ! ~ August 2019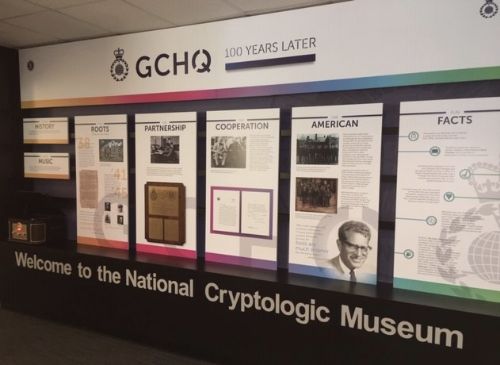 In August 2019, the museum proudly opened a new display in its Cryptologic Treasures exhibit featuring the 100th Anniversary of Great Britain's Government Communications Headquarters (GCHQ). The opening panel on the display congratulates GCHQ on its century of service in partnering with the United States' defense and intelligence communities to provide and protect America and the world's most important communications.
Pictured below are some of the display panels and the TypeX, a device housed in the Cipher Office at Bletchley Park. The device was modified to operate as an Enigma machine to decipher messages once the key settings had been recovered by the Bombes.
Click on the photos for an enlarged view.