On 17 January 2012 the AC Chairman traveled to New York City to accept another donation of cryptologic memorabilia from Dr. David Kahn.
David's donation consisted of seven boxes of material to include one box each of English language and foreign language books on cryptology; 2 boxes of notebooks, journals and correspondence; and three boxes of personal memorabilia and awards.
Some of the more unique items in the donation included:
~ A build your own Enigma kit
~ A telephone stepping switch similar to ones used in the Japanese Purple Machine
~ A Motorola Info Guard dinomic cipher wheel
~ Foreign awards given to David by the French and Hungarian Intelligence Services
~ Bentleys Code Phrase book and many other rare books (for the Museum Library)
~ An Uncorrected Editors Proof of David's book, The Reader of Gentlemen's Mail
~ A two-act unpublished play written by Alan C. Kohn titled, "Cipher Brains," a fictional work inspired by the real life American code breakers Herbert Yardley, William Friedman, Joseph Rochefort and Joseph Redman.
Included in the personal memorabilia was a postcard written by David to his Father in 1936 while on vacation. It is likely the earliest surviving writing by this esteemed author. Pictures of some of the donated items are included here.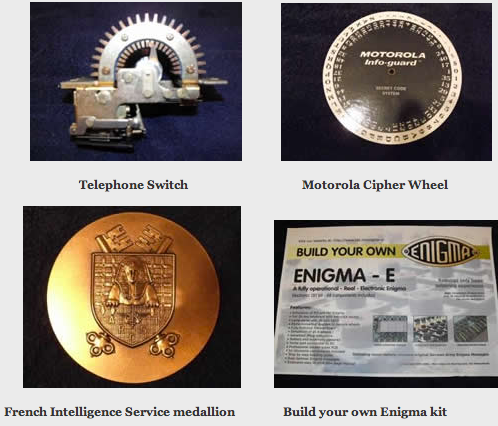 DR. DAVID KAHN DONATIONS - JANUARY 2012