Event Calendar
2018 NCMF Summer Cryptologic Program with Dr. Janet Breslin-Smith
Wednesday, June 20, 2018 10:00 am - 1:00 pm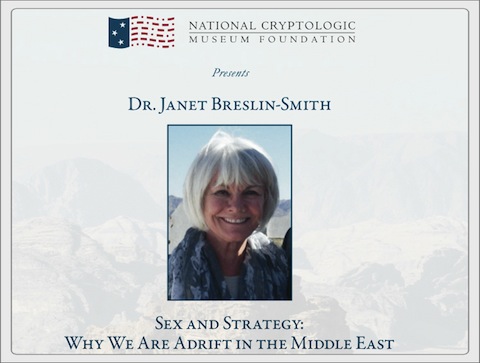 Location:
NCMF Program: CACI, Inc., 2720 Technology Drive, Annapolis Junction, MD 20701. WWI Discussion - at the National Cryptologic Museum.
Description:
Please join us for the 2018 NCMF Summer Program on 20 June featuring Dr. Janet Breslin-Smith, with a presentation on American diplomatic and military strategy, and its clash with Saudi culture. The program will take place at CACI, Inc., 2720 Technology Drive, Annapolis Junction, MD 20701. The registration fee is $25 for NCMF members and guests. Registration includes lunch. The presentation will take place from 10am to 11:30am. Lunch will begin at 11:45 am and will wrap up at 1pm. To register - click the REGISTER NOW link below. Online registration will close at 5pm on 19 June. You can also mail in a check for your registration fee to: NCMF, PO Box 1682, Ft. Meade, MD 20755.

***At the door registrations will be accepted, but lunch options may be limited.***

PLEASE feel free to download and share the June 2018 Program Flyer - see the link below.

ABOUT OUR SPEAKER

Dr. Breslin-Smith travels across cultures, both bureaucratic and geo-strategic. Currently President of Crosswinds International Consulting, she has held leadership roles in the U.S. Senate, the National War College and in Saudi Arabia, where she focused on higher education and outreach to women in the Middle East.

As a journalist she has written for the New York Times on Saudi extremism and is the co-author of The National War College: A History of Strategic Thinking in Peace and War.

From 2009 through 2013 she resided in Riyadh, Saudi Arabia with her husband, Ambassador James Smith, where she developed extensive contacts with Saudi women leaders in education, medicine, business, banking, philanthropy, sports and on- line entrepreneurship. She lectures widely on strategy and culture, macro-economics and Islam, Women, Islam and Saudi Arabia and continues her outreach to Saudi women students studying in the United States.

Dr. Breslin-Smith earned her PH.D from the University of California at Los Angeles and currently serves on the Board of Southern New Hampshire University and the National War College Alumni Association.
This form stopped accepting submissions on June 19, 2018 5:00 pm EDT.