Event Calendar
NCMF 2017 Membership Meeting & Annual Symposium
Wednesday, October 18, 2017 9:00 am - 3:00 pm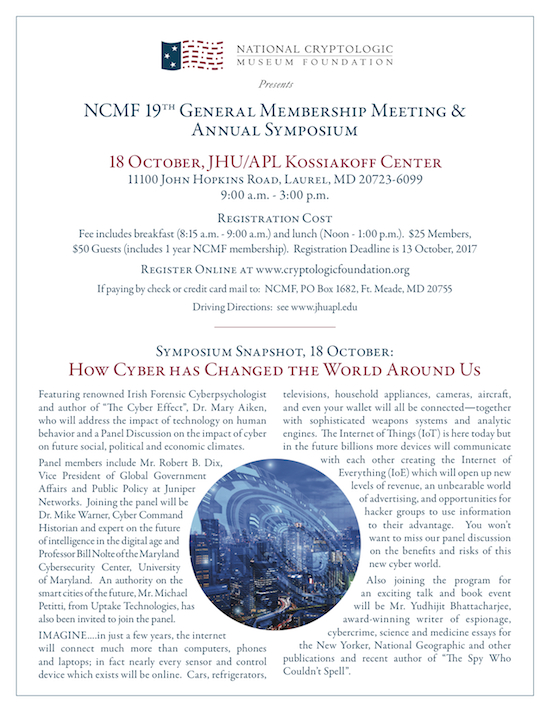 Location:
JHU/APL Kossiakoff Center, 11100 John Hopkins Rd, Laurel, MD 20723-6099
Description:
The theme for this year's NCMF General Membership Meeting & Annual Symposium is "How Cyber Has Changed the World Around Us." Download a PDF of the full event flyer to share with others via the links section located below.

In addition to opening remarks made by the Deputy Director of NSA, the program will feature guest speakers such as Dr. Mary Aiken, renowned Irish forensic cyberpsychologist and author of "The Cyber Effect," who will address the impact of technology on human behavior. Learn more about Dr. Aiken via an article by the British Psychological Society - link at the end of the page.

The program will also include a panel discussion on the impact of cyber on future social, political and economic climates. Panel members include Mr. Robert B. Dix, Vice President of Global Government Affairs and Public Policy at Juniper Networks, Dr. Mike Warner, Cyber Command Historian and expert on the future of intelligence in the digital age, and Professor Bill Nolte of the Maryland Cybersecurity Center, University of Maryland. An authority on the economics of cyber has also been invited.

Joining the program for an exciting talk and book event will be Mr. Yudhijit Bhattacharjee, an award-winning writer of espionage, cybercrime, science and medicine essays for the New Yorker, National Geographic, New Yorker Magazine, and other publications. Mr. Bhattacharjee is the recent author of The Spy Who Couldn't Spell, a true-life account of the FBI's hunt for an ingenious traitor whose intricate espionage scheme and complex system of coded messages were made even more baffling by his dyslexia. Visit Mr. Bhattacharjee's website to learn more about him and his work via the link provided below.

As always, the annual meeting will include updates about the Foundation, Museum, and New Museum Project.

REGISTRATION IS NOW CLOSED

Need directions? See the link below for driving directions to JHU/APL.

***REMEMBER*** this year's Annual Meeting coincides with the biennial Symposium on Cryptologic History on 19-20 October. So we hope you will plan to make it THREE DAYS OF CRYPTOLOGY. Learn more about the CCH Symposium via the link below.
This form stopped accepting submissions on October 15, 2017 11:55 pm EDT.