2021 NCF-CCEI Founders' Group Event
Rebecca Diamond, NCF Development Director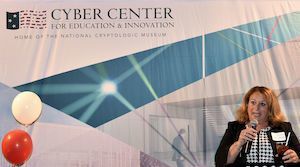 Let's Raise a Toast to our Founders!
Thanks to all of you- for your passion to Educate, Stimulate, and Commemorate.
Because of you, today the National Cryptologic Foundation is bursting at the seams with education programs and many more in the pipeline.
In the past two years we have added eight new NCF-CCEI Founders and increased Founder pledges by $4.5M (not including today's generous pledges).
As you have seen and heard today from Mark, education is at our core. The NCF is growing young minds and leading them into cyber, cryptology, and other Intelligence fields to help fill the talent void.
We have more work to do. The NCF has spent this past year cultivating like-minded individuals and corporations by inviting them into the fold via our virtual events for which we had close to 900 rsvps, in total.
We held two 25th Anniversary events:
1) Panel of six former NSA directors
2) Panel of three former PDDNIs
In 2021, we have
· Written and won corporate grants
· Gained new members both individually and corporate
· Received tribute gifts to our "In Memoriam" registry
· Received legacy gifts from estates
· Received individual gifts through the year to our education fund
· Received corporate sponsorships for our anniversary events
· And we have sent out 1500 end of year appeal letters
For 2022, we already have our 1st Annual Education Awards Breakfast scheduled for March 24th at the Hotel at Arundel Preserve, I hope you will all be able to join us.
Founders, thank you for your past pledges, your present pledges, and your future pledges.
Thank you from the entire NCF team.