Results of the 12th Annual Tim Sheahan Memorial Golf Tournament (aka Crypto Cup). This event raised $40,000 in support of the NCMF.
On 20 June 2013, Eagle Alliance sponsored its 12th Annual Tim Sheahan Memorial Golf Tournament to benefit the NCMF at the Patuxent Greens golf course in Laurel, Maryland.
Tropical Storm Andrea caused a delay of the originally scheduled date of 7 June, but it was well worth the wait. 124 players gathered to enjoy a beautiful, sunny day of fun and competition. Once again, volunteers stepped up to check-in our players, hand out goodie bags, man beverage stations, and photograph the fun. A putting contest was held before tee-off with a $150 gift certificate to the Pro-Shop going to Mark Villee of Intelligent Decisions, Inc.
Following the tournament, golfers enjoyed lunch while winners (see below) accepted their awards and donated raffle prizes were given out.  
Here you see Dave Tetreault, Eagle Alliance Program Manager, and Orville Lewis, NCMF Vice President, with the winning team sponsored by SCI:  Marc Crumpler, holding the Crypto Cup, Dan Pflieger, Ryan Diehl, and Steve Slagle.  This team won with an outstanding score of 17 under par!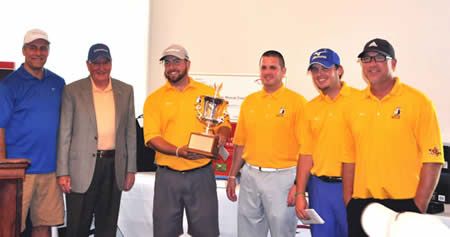 Second Place:  (-13) Kelly Taylor, Mike Miller, Don Owings, and Joe Neary of Eagle Alliance
Third Place:  (-12) Doug Lily, Sean Kromeke, Bob Lunsford, and Mark Villee of Intelligence Decisions, Inc.
Longest Drive (ladies):  Kelly Taylor

Longest Drive (men):  Logan Howell

Closest to the Pin:  Dave D'Angelo
The tournament closed with a presentation by Dave Tetreault of Eagle Alliance (on the left) of a $40,000 check to NCMF Vice President, Mr. Orville Lewis (on the right).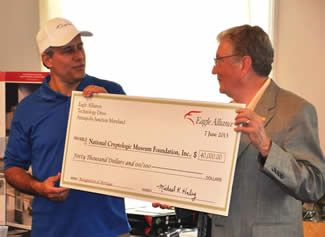 Special thanks is due the EA Event Coordinator, Stephanie Agostinelli, for her tireless efforts in recruiting sponsors for the benefit and canvassing local merchants for donations. Many golfers expressed their appreciation for her skill in making the tournament a success. Thanks is also due to NCMF member, John Garcia, who photographed the event for the Foundation.

    

The sponsors who made the event a success included:
Brocade 
Chesapeake Network Installations, Inc.
Cisco
Clearshark 
Corning Cable Systems
CS2 Consulting (& Dell Software)
CSC/Eagle Alliance
Cybercore Technologies 
Dell
General Dynamics Information Technology 
Hewlett Packard
Intelligent Decisions, Inc. 
KEYW Corporation
L-3
Lexmark International, Inc. 
MCO Computer Supplies 
NetApp 
Superior Communications, Inc. 
Tech USA
Donations were also provided by:  Bob Evans, Brocade, BWI Airport Marriott, Cheesecake Factory, Charm City Concierge, Clearshark, Corning, Courtyard by Marriott, Dawn Pruss, Dell, Greene Turtle, Hardees, LaPrima Food Group, Medieval Times, NCMF, SSaTi, Springhill Suites, Spy Museum, Squisito Pizza, and The Hotel.
Special thanks to all the volunteers that made the event so successful:  Charlie Emory, Al-Wayne Morgan, Donna Sypniewski, Jaclyn Lily, Jim Taylor, Dawn Pruss, Susan Shapero, Jennnifer Robinson, Jessica Furey, Mak Macfinsky, and, especially, Stephanie Agostinelli.