Results of the 17th Annual Tim Sheahan Memorial Golf Tournament (aka Crypto Cup). This event raised over $46,000 in support of the NCMF.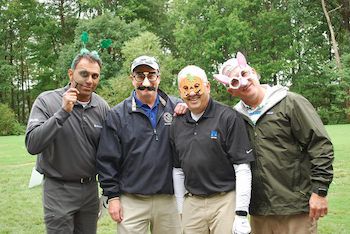 Thursday, September 27, 2018, after rescheduling twice, 110 players gathered at the Compass Pointe Golf Course in Pasadena to enjoy a day of fun and competition. Please see links to full photo albums below.
Registration/breakfast began at 8:00 a.m. with a Shotgun Start and Tee-off at 9:00 a.m. Volunteers ensured that everyone checked in and received their goody bags, manned two snack stations and photographed the event. A mega-putt contest was held before the tee-off with a $100 gift certificate won by Todd Doherty of FEDDATA. Over $700 was raised at the Spy Hole where players posed for team photos in various stages of disguise. (See photo album link below.)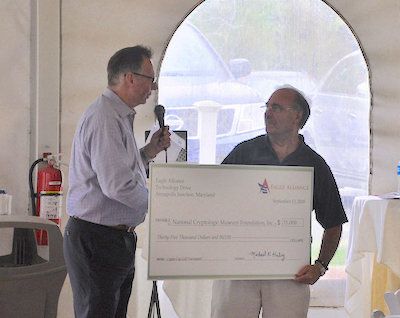 After 18 holes of play, everyone gathered together for a BBQ Buffet lunch and awards. Eagle Alliance presented a check to the National Cryptologic Museum Foundation for $35,000. The final amount will total over $46,000.
---
RESULTS
The top three teams, listed below, all had a score of 61! (See photos of all teams via albums below.)
First place: Kevin Lauffer, Jeff Hicks, Logan Howell, Brett Wilson (representing FedData) - Formal presentation to the winners took place during a special event at the NCM in November 2018.
Second place: Tom Powderly, Brett Bennett, Dave D'Angelo, Bob Reid (representing Rolling Wave Technologies)
Third place: Keith Dunnigan, Jim Sutch, John Karpovich, Dave Auer (representing MCO Computer Supplies)
Other contests were held during play and the winners were:
Longest Drive – Ladies: Sue Walter
Longest Drive- Men: Hunter Lochte
Closest to the Pin: Mark Campbell
The raffle was done as a Lucky Draw raffle, where participants placed tickets in the bag for the items they most wanted to win. Items included a cooler and basket of cheer (alcohol donated by MCO Computer Supplies), a basket from Mission BBQ, multiple golf items, an Air Fryer and 3 Garmin items donated by Superior Communications, Inc.
---
PHOTOS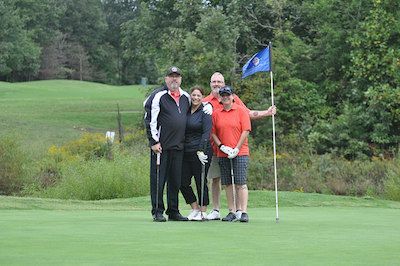 Main album: https://flic.kr/s/aHsmtgR729
Spy Hole album: https://www.flickr.com/photos/127836146@N03/albums/72157700526574911
Awards-Raffles album: https://www.flickr.com/photos/127836146@N03/albums/72157701870694864
---
GRATITUDE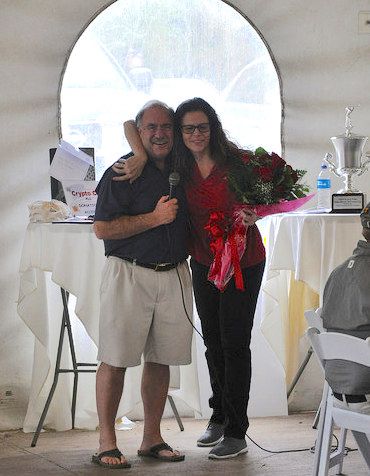 The event was such a success thanks to the ALL of the sponsors, players and dedicated volunteers. As a special thank you, the NCMF presented Stephanie Agostinelli, Event Coordinator, with a beautiful bouquet of red roses.
SPONSORS
Corning Beverage Carts
FedData Corporate
Superior Communications, Inc. Corporate
NetApp Corporate
Dell EMC Corporate
Cisco Corporate
Norseman Corporate
AT&T Corporate
CS2 Corporate
GDIT Corporate
Chesapeake Network Installations, Inc. Golf Carts
MCO Computer Supplies, Inc. Golf Carts
CyberCore Breakfast
ELEVI Associates Awards
TechUSA Awards
VOLUNTEERS
Dawn Pruss, Jen Berry, Jessica Furey, Jim Taylor, JJ Pruss, Lauren Furey, Marion Goddard, and Teri Feher.
Volunteers were recognized during a special event at the NCM in November 2018.