Results of the 15th Annual Tim Sheahan Memorial Golf Tournament (aka Crypto Cup). This event raised over $34,000 in support of the NCMF.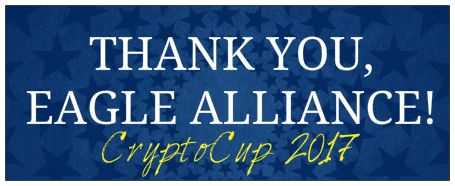 The annual Eagle Alliance Crypto Cup is dedicated to the memory of Tim Sheahan, Eagle Alliance's first Account Executive and a key contributor to the award and success of the GROUNDBREAKER program. This annual event is a KEY fundraiser for the National Cryptologic Museum Foundation as well as a lot of FUN! See below for photos and winners from this year's event. LOTS more photos available via the Flickr albums linked below. See previous years' recap pages for photos from past events.
Friday, June 9, 2017 was a beautiful warm day with temperatures in the 80's. A total of 124 players gathered at the Patuxent Greens Golf Course, in Laurel, MD, to enjoy a day of fun and competition. Registration/breakfast began at 7:30 a.m. with a Shotgun Start and Tee-off at 8:30 a.m. Volunteers ensured that everyone checked in and received their goody bags, manned two beverage stations, and photographed the event. A Mega-Putt Contest was held before the tee-off with a $100 gift certificate won by Kurt Hodges of FEDDATA.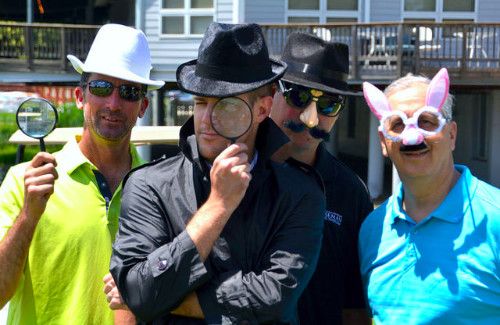 After 18 holes of play, everyone gathered together for a Country Buffet lunch and awards. Eagle Alliance presented a check to the National Cryptologic Museum Foundation for $30,000. The final amount will total over $34,000 after a donation from Patuxent Greens Golf Course (based on the 5-year average from holding the tournament there for 5 consecutive years). Over $500 was raised at the Spy Hole where players posed as spies for team photos. SPY HOLE FLICKR ALBUM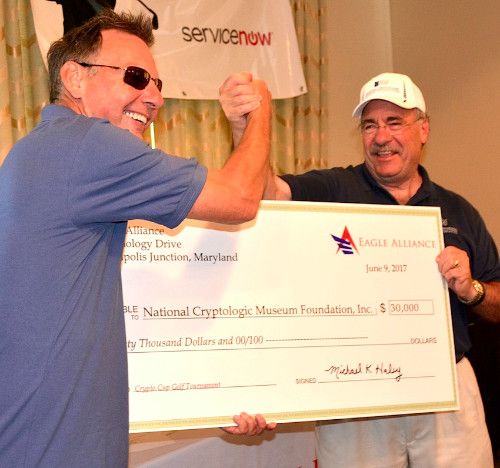 TOURNAMENT WINNERS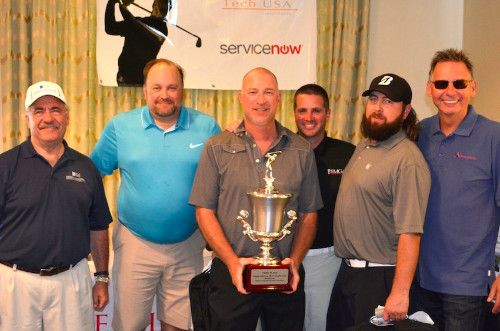 Tournament Winners:
First place: Ron Hurley, Marc Crumpler, Dan Pflieger and Steve Slagle (SCI)
Second place: Rick Hardy, Bob Young, Allen Heuval and Kurt Hodges (FEDDATA)
Third place: Pat Furey, Tim Wickiser, Russell Loock and Mark Guthrie (Lexmark)
Other contests were held during play and the winners were:
Longest Drive: Ladies: Kelly Miller
Longest Drive: Men: Bruce Howard
Closest to the Pin: Clay Brown
Prior to Tee-Off:
Mega-Putt Content: Kurt Hodges of FEDDATA
AWARDS AND RAFFLES FLICKR PHOTO ALBUM
Click on photos below for larger view.
2nd Place Winners from FEDDATA

Rick Hardy, Bob Young, Allen Heuval, and Kurt Hodges

3rd Place Winners from LEXMARK
RAFFLE
The raffle was done differently this year, as a Lucky Draw raffle, where participants placed tickets in the bag for the items they most wanted to win. The raffle raised over $1400! Items included a few different baskets of cheer, a Game Night basket, appetizers for a year from Two Rivers Steakhouse, a basket and gift card from Mission BBQ, a Coleman grill, and the most sought after item was a Louisville Slugger baseball bat autographed and authenticated from Orioles player Adam Jones.
There was also a special raffle for a two-night stay for two at the DogDen luxury home in Pinehurst, NC, with access to numerous top golf courses, golf instruction, spa, etc. (kindly donated by David Odgen/DogDenGolf).
AWARDS AND RAFFLES FLICKR PHOTO ALBUM
PHOTOS
Lots of great photos from the 2017 CryptoCup can be viewed in the following Flickr albums online (clicking on the album names below will take to Flickr.com):
Below are photos from the 2017 Eagle Alliance Awards Banquet and Volunteer Appreciation Lunch, held in August at the National Cryptologic Museum. Click on each photo for a larger view.
SPONSORS, DONORS, VOLUNTEERS
The event was such a success thanks to the following sponsors, businesses and volunteers:
SPONSORS:
Lexmark
Infoblox
MCO
Corning
NetApp
Brocade
SCI
Cisco
FEDDATA
CNI
TechUSA
ServiceNow
---
DONORS:
DogDenGolf
Two Rivers Steak House in Pasadena, MD
Baltimore Orioles
Mission BBQ
NCMF
API Source
CSRA
Wolfs Iris Photography
Carmen Freeman
Dawn and JJ Pruss
Jim Taylor
Stephanie Agostinelli
---
VOLUNTEERS:
Eagle Alliance:
Dawn Pruss
Jen Berry
Kelly Heldman
Winnie Weeks-Jeyes
Tina Regan
Teri Feher
Ryan Beck
Bonnie Wickham
Stephanie Agostinelli, Event Coordinator
CyberCore:
Jessica Furey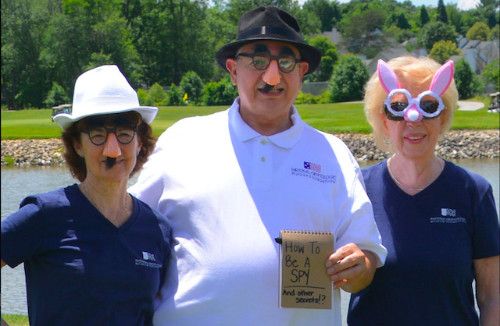 ***The NCMF is sincerely grateful to Eagle Alliance for hosting another successful CryptoCup fundraiser. MANY thanks to all the volunteers, sponsors, donors, players, and all who helped to support this important annual fundraiser.