Results of the 14th Annual Tim Sheahan Memorial Golf Tournament (aka Crypto Cup). This event raised $38,000 in support of the NCMF.
Friday, May 15th, 2015 was a gorgeous, sunny day with temperatures in the high 70s. The 14th Annual Eagle Alliance CryptoCup began with registration and breakfast at 7:30 a.m. and a Shotgun Start and Tee-Off (many dressed as spies! - see below) at 8:30 a.m. After 18 holes of play, everyone gathered for a country buffet lunch and awards! Get all the award info and see PHOTO GALLERIES below.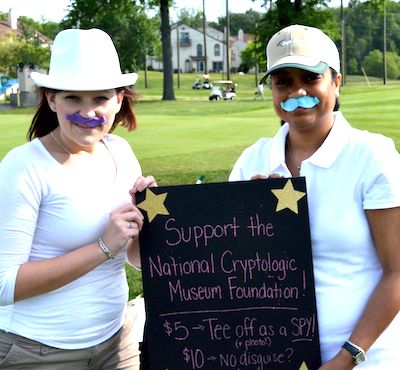 There were 140 players who gathered at the Patuxent Greens Golf Course, in Laurel, MD, to enjoy a day of fun and competition. Volunteers distributed goodie bags, manned two beverage stations, and photographed the event.
This year's tournament featured a "Spy Tee-Off" fundraiser which many enjoyed.
---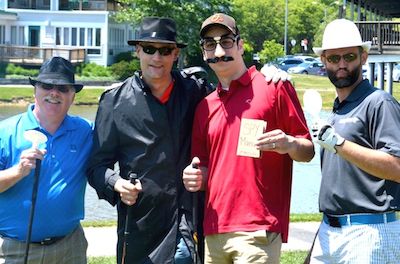 Many golfers and some who were just out to support the event, made a contribution and put on a disguise for their tee-off. We still knew who they were, especially by their golf swing! See more photos of our "spy" golfers and tournament crashers below!
---
Click on the photos below for a larger view
---
AWARD WINNERS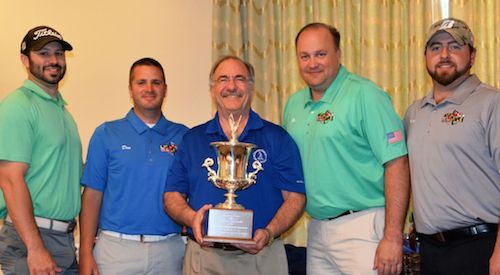 First place:  Ron Hurley, Marc Crumpler, Danny Pflieger, and Bobby Sheahin of Superior Communications, Inc. (SCI) 
Second place:  Fran Moran, Tammy Wistos, Mike Bausch, and Scott Dunlap of World Wide Technologies (WWTAS)  
Third place:  Ron Wade, Brian Coleman, Danny Palumbo, and Dave Coburn representing EMC.

Other contests were held during play and the winners were:
Longest Drive – Ladies: Tammy Marks
Longest Drive - Mens: Steve Dewberry
Closest to the Pin: Fran Moran
Mega-Putt Contest (held before tee-off): Kevin Lauffer
Click on the photos below to view a larger image.
Eagle Alliance Check Presentation to NCMF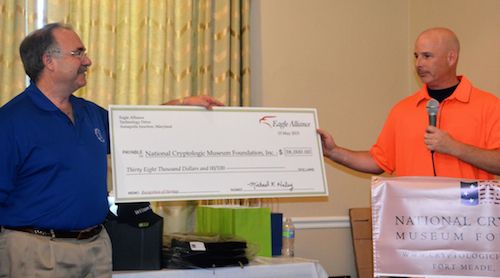 We cannot adequately express our gratitude to Eagle Alliance for their continued support. The annual CryptoCup golf tournament has proven to be a vital fundraiser for the NCMF, and helps make it possible for us to continue supporting the efforts of the National Cryptologic Museum.
Sponsors, Donors, & Volunteers
The NCMF would like to thank the following companies, organizations, and individuals. The event was a success because of each of them!
THANK YOU!
SPONSORS:
SCI (Superior Communications, Inc.
Brocade
Cisco
Clearshark
CNI (Chesapeake Network Installations)
Corning
CyberCore
EMC
Hewlett Packard
Intelligent Decisions
Infoblox
KeyW
Lexmark
Intel Security (McAfee)
MCO Computer Supplies
Net App
Quantum
SEL (Schweitzer Engineering Labs)
TechUSA
WWTAS (World Wide Technology Advanced Solutions)
Zavda
DONORS:
Baltimore Orioles (Barry Bingaman)
Cutco Cutlery (Ian Conners)
Medieval Times at Arundel Mills Mall
Mission BBQ in Glen Burnie
National Cryptologic Museum
Tower Federal Credit Union
VOLUNTEERS:  Many thanks to the wonderful volunteers for their special touches that helped to make this event successful & memorable!
CyberCore:
Jessica Furey from CyberCore
Eagle Alliance:
Dawn Pruss
Winnie Weeks
Tara Colison
Cynthia Haynes
Donna Sypniewski
Jim Taylor (photos)
and a SPECIAL note of gratitude to Stephanie Agostinelli, our amazing, dedicated, & tireless Event Manager!
2015 VOLUNTEER APPRECIATION & AWARDS LUNCHEON
Click on the photos below for larger images.