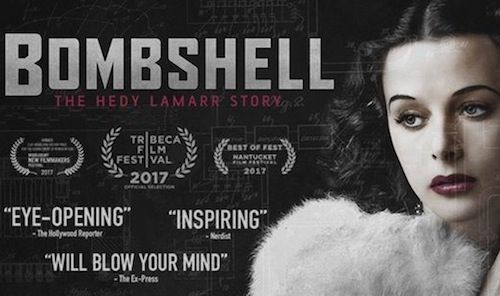 Often referred to as the world's most beautiful woman, Hollywood actress Hedy Lamarr was an ingenious inventor whose pioneering work helped revolutionize modern communication.  An Austrian Jewish emigrant who invented a covert communication system to try to help defeat the Nazis, Lamarr was ignored and told to sell kisses for war bonds instead. It was only toward the very end of her life that tech pioneers discovered that it was her concept that is now used as the basis for secure WiFi, GPS and Bluetooth technologies.
Produced by Reframed Pictures in association with American Masters, the new documentary Bombshell: The Hedy Lamarr Story explores how Lamarr's true legacy is that of a technological trailblazer.
You can watch the film on PBS, as well as PBS.org online. Plus the PBS.org website includes a variety of additional interesting film clips and articles about Ms. Lamarr to enjoy along with the film. And for your Netflix subscribers - you can find it on Netflix now too.
Return to our HOME PAGE.