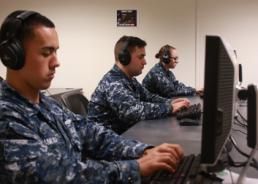 Morse code: A staple in the Navy IW toolkit
Center for Information Dominance
Story by Carla McCarthy (Full story via DVIDSHUB.net)
Photo: PENSACOLA, Fla. (Nov. 3, 2015) Students learn Morse code while attending the first revised Basic Manual Morse Trainer (BMMT) course at the Center for Information Dominance (CID) Unit Corry Station. Morse code is just one tool that cryptologic technician (collection) Sailors use as members of the Navy's Information Warfare community to perform collection, analysis and reporting on communication signals. (U.S. Navy photo by Information Systems Technician 1st Class Kristin Carter/Released)
PENSACOLA, Fla. – The cryptologic technician (collection) (CTR) student cohort in the first revised Basic Manual Morse Trainer (BMMT) course wrapped up, Jan. 28, at the Center for Information Dominance (CID) Unit Corry Station.
The update included the latest Manual Morse software used by the Department of Defense and was tested out in a nine-week pilot course that concluded in September. The self-paced course provides basic instruction and practical application in the interception of Morse-type communications.
"Morse code continues to be an inexpensive and efficient means of communication for many states throughout the globe," said Senior Chief Cryptologic Technician (Collection) (IDW/NAC/SW/AW) Tony Gonzales, CTR rate training manager for CID headquarters. "Manual Morse operators here at Corry Station are learning a skill set that has stood the test of time. Many of our most senior CTRs began their careers as Manual Morse operators."
In the updated course, Sailors learn how to operate radio-receiving and associated computer-based equipment. From basic safeguards of security to communication procedures and systems theory to operation of communications equipment, the course teaches how to intercept Morse communications, as well as copy and send Morse code.
"There is something special about learning a skill that Sailors have been performing since World War II," said Gonzales. "The connection between the past, present and future cryptologic technician (collection) is rarely seen in our line of work as technologies are forever changing."
Morse is just one tool that CTRs use as members of the Navy's Information Warfare community to perform collection, analysis and reporting on communication signals.......READ MORE via DVIDSHUB.net
Return to our HOME PAGE
Visit the Cryptologic Bytes Archives via the "Return to List" link below.