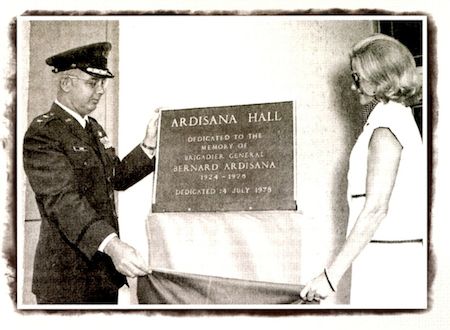 Brigadier General Bernard (Ben) Ardisana, USAF, was the assistant chief to the Deputy Directorate for Operations at NSA, the equivalent of today's SID. He was the first Air Force SIGINTer to become a general officer.
Among many achievements, in the 1960s he had much to do with significant improvements to SIGINT communications that enabled the speeds needed for the CRITICOMM system. Brigadier General Ardisana died unexpectedly of a heart attack on January 14, 1978.
In the photograph, Major General Kenneth D. Burns, commander of the USAF Security Service, and Mrs. Betty Ardisana are dedicating a building at Kelly AFB, Texas, to her late husband on July 14, 1976.