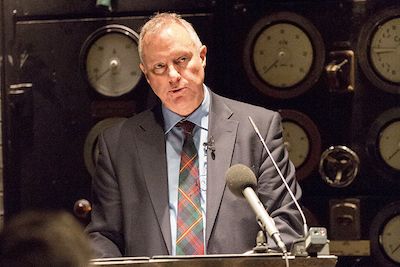 Sir Iain Lobban (pictured here in a Crown Copyrighted photo) was Director of GCHQ from July 2008 until his retirement on 24 October 2014. On 21 October 2014, he gave a speech in the Cabinet War Rooms. The speech is an impressive summary of the challenges the Nation and the intelligence community in particular faces, the complexity of today's communications environment, the difficulties facing the intelligence community in areas such as privacy, and the incredible workforce he has had the honor of working with.
He closed his speech with the following: "............my fellow professionals (are) ordinary men and women whose integrity has been insulted time and again, and whose response to such provocation has not been a noisy retort but a quiet resolve – a resolve to continue doing extraordinary things for others. I will miss them, the friends who made the same career choice: their skill, their sacrifice, their silence. I said this to the parliamentary committee in a closed evidence session, and I'll say it again now: My staff are the embodiment of British values, not a threat to them.
To view the full transcript of Sir Lobban's speech, visit the GCHQ Web site.
Photo Info: Crown Copyright.
Click HERE to return to the Home Page of our Web site.
Click the link below to visit the full Cryptologic Bytes Archives page.