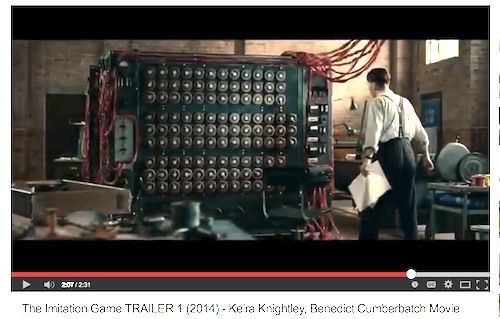 Coming out in the Fall of 2014 (Opens 21 November in the U.S.), The Imitation Game1> features Benedict Cumberbatch as Alan Turing and Keira Knightley as Joan Clark. The film portrays the race against time by Alan Turing and his team of code-breakers at Britain's top-secret Government Code and Cypher School at Bletchley Park, during the darkest days of World War II.
Watch the Official Movie Trailer.
Visit The Imitation Game Web site for more information.
Excerpted from an 8 September 2014 review by The Independent:
"The action starts in Manchester in 1951. Turing's house has just been burgled but something is amiss with the crime scene, which arouses the suspicion of Detective Robert Nock (Rory Kinnear), who hauls Turing in for an interrogation.
The story then takes the form of a series of flashbacks focusing on Turing's schooldays and, for the main bulk of the film, his activities during the war.
From the off Cumberbatch depicts Turing as an odd chap. In an amusing scene in which he's being interviewed at the Government Code and Cypher School at Bletchley Park, Turing takes every word literally, much to the chagrin of Commander Alastair Denniston (Charles Dance).
He frustrates his new colleagues with his oddball habits, refusing to partake in camaraderie or join them for lunch, and decrying their attempts to break the German Enigma code.
Convinced that they need to develop a mechanical machine if they are to have any success, he ostracises his colleagues with his methods. A rivalry soon develops with his gregarious, caddish colleague Hugh Alexander (Mathew Goode). The last time a British character with this many foibles turned up in a prestige picture it was Colin Firth in The King's Speech. And that went on to sweep the Oscars.
Gender politics enter the fray with the arrival of the brilliant puzzle solver Joan Clarke. Keira Knightley is usually at her best when playing contemporary roles, but the part of female trailblazer suits her acting style. Her confidence is the perfect foil for Cumberbatch's quirkiness but she has her own problems - her parents are concerned that she's 25 and unmarried. Cue one of the most unromantic proposals ever seen on screen. Also excellent is the often under-rated Mark Strong, who plays MI6 head Stewart Menzies. It's hard to find fault with any of the ensemble."
Return to HOME PAGE.
To go to the Cryptologic Bytes archives page to see more articles such as this one, please click below on the "Return to List" link.