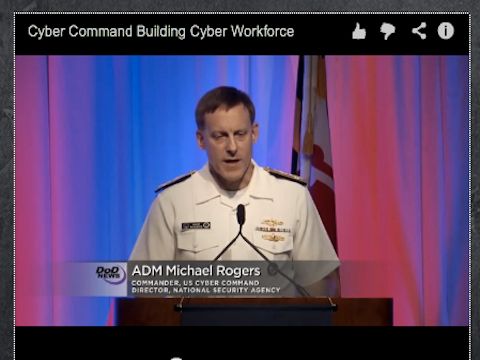 Cyber Command Building Cyber Workforce
Posted on July 11, 2014 by Jessica Tozer on Armed With Science Blog
Security in the cyber world was the main focus of the Cyber Symposium in Baltimore. The Commander of U.S. Cyber Command, Admiral Michael Rogers, gave the keynote address, and spoke about what CYBERCOM's mission is, and how it's accomplished.
"When I look at U.S. Cyber Command specifically, the Department of Defense is in the midst of a three-year journey that's going to create a cyber workforce of approximately over six-thousand individuals," Admiral Rogers explained.
Please follow THIS LINK to view the video of Admiral Rogers.
Story and information provided by DoDNews, Defense Media Activity
Return to HOME PAGE.
To go to the Cryptologic Bytes archives page to see more articles such as this one, please click below on the "Return to List" link.